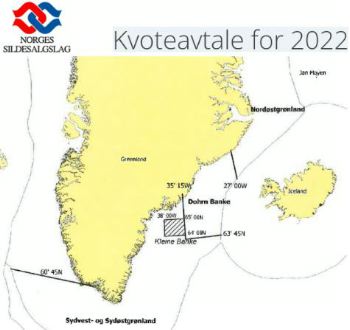 Image: Greenland areas map of Quota agreement Norway - Greenland
Norway and Greenland have agreed on a quota agreement for 2022

NORWAY
Friday, December 03, 2021, 07:00 (GMT + 9)
"Norwegian fishermen make good use of the quotas off Greenland, and I am pleased that Norway and Greenland have agreed on a quota agreement for 2022", says State Secretary Vidar Ulriksen (Labor) on the ministry's website.

Greenland's quota in the Barents Sea in 2022 is set at 4,000 tonnes of cod, 750 tonnes of haddock, 650 tonnes of saithe and 425 tonnes of by-catch of other species.

The Norwegian cod quota is 1350 tonnes and the halibut quota 30 tonnes.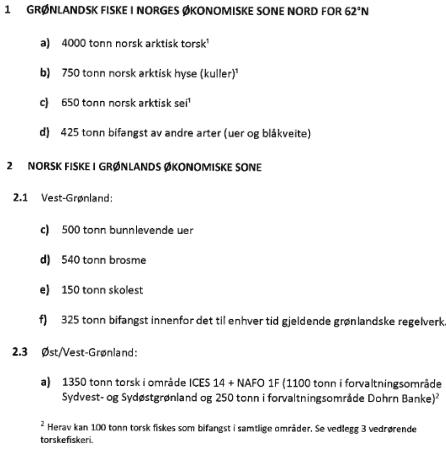 The blue halibut quota in West Greenland will be continued at 900 tonnes, while the blue halibut quota in East Greenland will increase to 375 tonnes. Due to an uncertain population situation, the quota is reduced to 500 tonnes. The quota for icefish in East Greenland will be increased by 50 tonnes and the by-catch quota of other species will be increased by 175 tonnes. The quota for demersal redfish in East Greenland will be reduced to 500 tonnes.

Norway and Greenland also agree to continue the good research collaboration, especially for the stocks of halibut, cod, redfish and mackerel.

Due to the corona pandemic, this is the first time the parties have met physically for bilateral negotiations since the autumn of 2019.

Quota agreement Norway - Greenland 2022.pdf

Author/Source: Roar Bjånesøy/Norges Sildesalgslag (translated from original in norwegian)
editorial@seafood.media
www.seafood.media