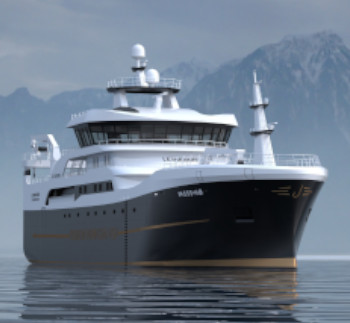 Image: Skipteknisk
Leinebris commissioned the first vessel to combine longliner, purse seiner and trawl

NORWAY
Friday, February 03, 2023, 07:00 (GMT + 9)
The Leinebris management team have reached an agreement to build a unique and future-oriented fishing boat, with a sharp focus on sustainability and quality.
"The sum of all the new investments means that we will reach the sustainability target by 2030 and limit our footprint at sea." That is what the daily manager, Paul Harald Leinebø, and the president, Åge Uran, of Leinebris AS say.
They report Wednesday that a newbuild deal has been reached with Turkish shipyard Tersan Shipyard, featuring a grand design by Skipsteknisk.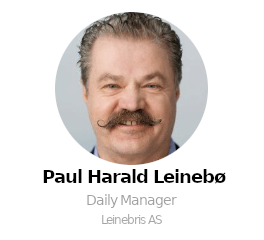 Over time, the parties have worked closely together to arrive at the best green investments and solutions.
Innovations
The new Leinebris will be equipped with a large battery pack and three generator sets for diesel-electric propulsion.
Innovative are the Azimut thrusters at the stern and bow for more efficient use of power and manoeuvres.
In particular, the focus has been placed on harnessing all the energy produced on board, and the ship has electric deck equipment and winches.
"We want to fish for the future and take care of the resources we have in the best possible way. So we have to think of something new and build something new," says Leinebø.
Through sustainable fishing and resource management, the management team wants to inspire and help Norway as a fishing nation to set an example and enable people to make environmentally friendly food choices.
Unique combination vessel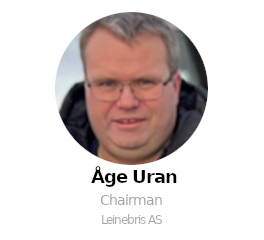 It will also be the first vessel to combine longliner, purse seiner and trawl. This will give flexibility to be able to use the trips that leave the smallest climate footprint.
"This will optimize and make fishing more efficient, where we can tailor trip choice based on season and fishing pattern," Uran elaborates.
The new vessel will also have RSW tanks to be able to bring live fish on board and for production, and with the possibility of unloading directly from the tanks to shore.
"We do all of this to get the best possible quality out of the fish we ship. As line fishermen we know how important it is and we are confident in passing on the knowledge and experience we have from line fishing to purse seine fishing," says Paul Harald Leinebø in the fishing team's press release.
Double cargo decks, covered working decks and a moonpool will ensure crew safety.
Silage production and by-product management ensure that all fish brought on board are fully utilized.
Ready to fish in 2025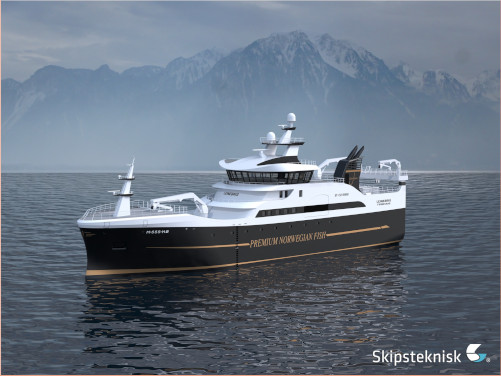 Image: Skipteknisk
The new Leinebris is scheduled to be ready for fishing in about two years, with a length of 64.90 meters and a width of 15 meters.
The owners are very pleased with the collaboration between Skipsteknisk, Tersan Shipyard and the suppliers and are looking forward to an exciting construction project in the future.
"We would like to thank all our partners who have believed in us and make it possible. The fact that we have so many young and talented people in the crew, both on board and on the ground, motivates and equips us to build the future," Leinebø concludes.
Source: Fiskarlaget
editorial@seafood.media
www.seafood.media