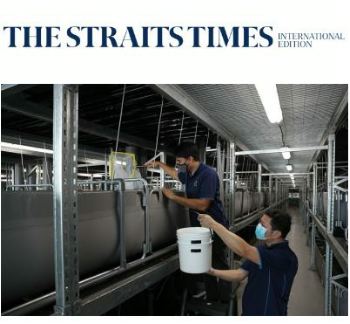 Universal Aquaculture chief executive Jeremy Ong (left), 46, and chief financial officer Clifford Loh, 44, at the firm's Tuas South Link facility. The
Prawn farm in Tuas scales new heights with high-tech vertical system

SINGAPORE
Tuesday, March 09, 2021, 07:00 (GMT + 9)
The following is an excerpt from an article published by the Straits Times:

Up to 200kg of crustacean will be produced daily; firm may tap new govt fund as it looks to expand

Fish and vegetable farming has already gone high-rise in land-scarce Singapore. Now, another type of farming has gone vertical.

When the first harvest from Universal Aquaculture's Tuas South Link facility is ready come June, the sweet, juicy flesh of live vannamei prawns will be much easier to get hold of.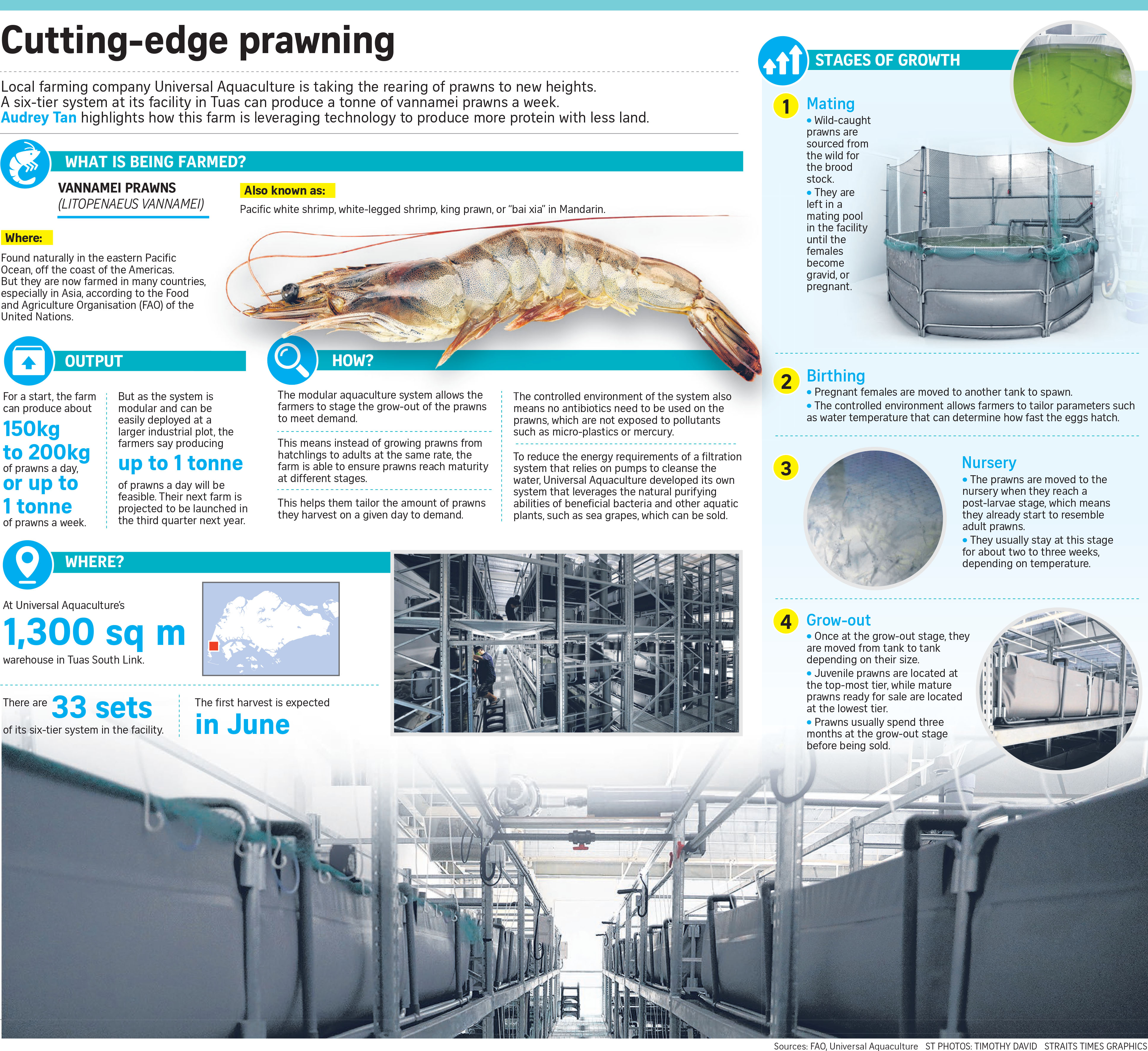 Image: courtesy The Strait Times (click to enlarge)

For a start, the farm will be able to produce between 150kg and 200kg a day of the crustacean - also known as Pacific white shrimp, white-legged shrimp, king prawn, or bai xia.

But as the high-tech system is modular and can be easily deployed at a larger industrial plot, chief executive Jeremy Ong said some 1,000kg of the prawns can be produced per day when the firm opens an additional site some time in the third quarter of next year.

Universal Aquaculture is among the farms here that can benefit from the new $60 million Agri-Food Cluster Transformation Fund, the details of which were released last week during the debate over the budget of the Ministry of Sustainability and the Environment. It replaces the Agriculture Productivity Fund.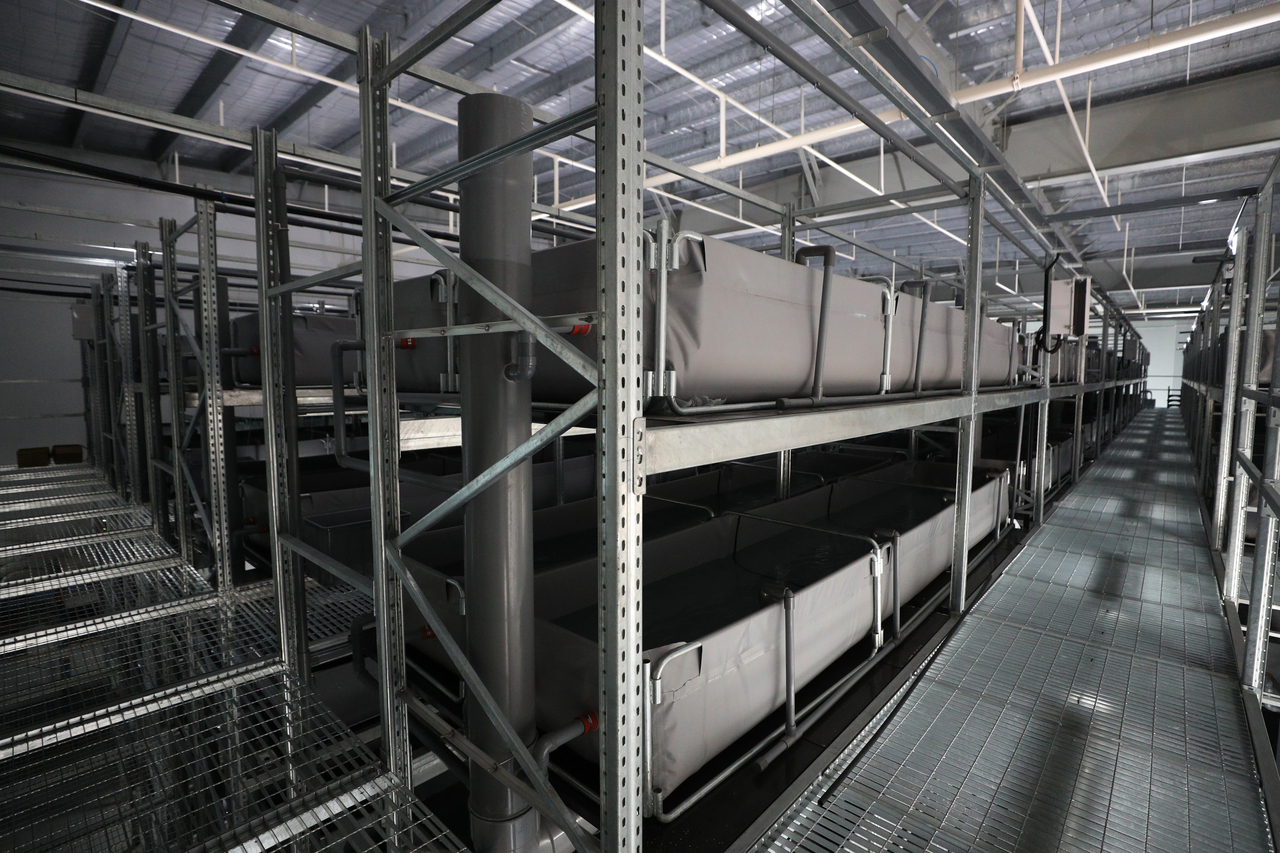 Image: courtesy The Strait Times

Under the new fund, farmers looking to set up new sites or retrofit indoor spaces at industrial sites can also receive co-funding of up to $1.5 million to cover infrastructure and building costs, said the Singapore Food Agency, a unit under the ministry. This was not available previously.

The new fund will also feature an expanded co-funding scope so farmers can use the money not just to boost yield but also, for instance, to bring in technology to reduce pollution and waste.

It will also cover farms' expenses related to the upcoming Clean and Green Standard to be launched later this year, such as the purchase of equipment and certification-related fees.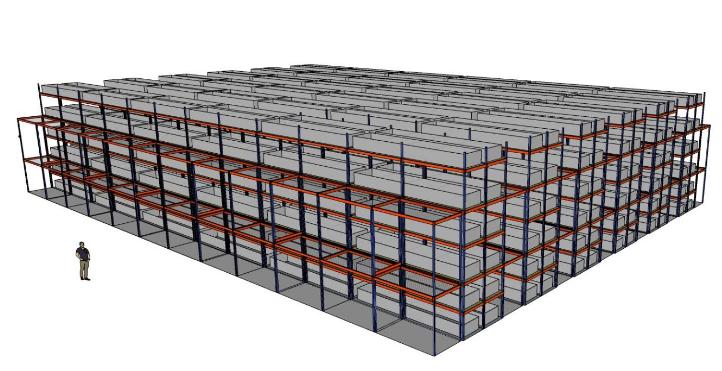 Indoor farming facility structure, usingHBRS POD & HBRS MATRIX technology, focusing on next generation breedingof fresh vannamei prawns (Photo: courtesy Oceanus Group Limited)

Mr Ong said: "We are happy that the grant scope has expanded and are grateful for the opportunity to apply."

He said transformation is key to Singapore meeting its "30 by 30" goal, which is to produce 30 per cent of the country's nutritional needs by 2030. Currently, the nation produces less than 10 per cent of its own food.(continued...)
Author: Audrey Tan / The Stait Times | Read the full article by clicking the link here
editorial@seafood.media
www.seafood.media