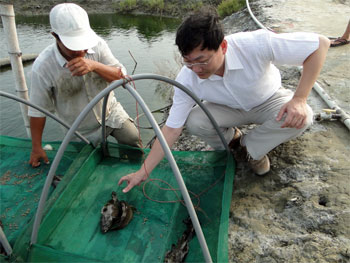 Grouper farming. (Photo: National Cheng Kung University)
Two insurance firms partner to offer innovative aquaculture insurance

TAIWAN
Friday, May 19, 2017, 21:30 (GMT + 9)
Two insurance firms have partnered to jointly offer first parametric aquaculture insurance solution to cover onshore fisheries against extreme rainfall in Taiwan's Ping Tung County.
The insurance offered by the partnership between Swiss Re and Taiwan Fire & Marine Insurance will protect grouper fish producers from flash flood, which may cause overflowing of onshore fisheries and escape of the fishes, resulting in a loss of fish stock.
According to representatives of both firms, the innovative insurance solution uses meteorological data to allow faster payout, reducing the time that is needed to settle claims and reducing the ambiguity of quantifying loss incurred for the fish farmers.
The partnership stated that its insurance scheme will eventually cover 120,000 hectares of grouper fish farms, generating a production of 25 million kg of fishes in Taiwan annually for local consumption and export to Asian markets, making the fisheries sector in Taiwan more resilient.
"Unlike traditional insurance which pays after the fish farmers make a claim by quantifying the losses they have incurred from the heavy rainfall and flooding, this insurance payout is based on a defined trigger, in this case the amount of rainfall experienced. This means that fish farmers can receive their payout faster, reducing the time that is needed in claims process and settlement," pointed out David Alexander, head of property and casualty for Hong Kong and Taiwan of Swiss Re.
For his part, Harini Kannan, head of agriculture reinsurance in Asia (ex-China) of Swiss Re explained that when the warning signal of typhoon or rainfall is hoisted, fisheries can deploy means of risk prevention and mitigation actions, which would incur a cost.
"Fish farmers can now cover this cost through the aquaculture index-based insurance or use the payout to replace the damaged fish stocks," he added.
In summer 2009, Taiwan experienced a series of typhoon which caused negative effects for the fisheries in Ping Tung County as the fish ponds were overflown with rainwater and nearly 50 per cent of the fisheries sector was wiped out. This resulted in an estimated loss of TWD 1.7 billion (USD 56 million).
The Taiwanese government has since called for increased agricultural risk transfer, launching initiatives to develop the protection of its agriculture sector.
As grouper is an expensive fish breed of the county and an economic asset in Taiwanese aquaculture industry, the launch of the first parametric aquaculture insurance solution is an important step towards protecting an important agricultural sector within the country's economy, aiding development goals, and mitigating against potential impacts of climate change.