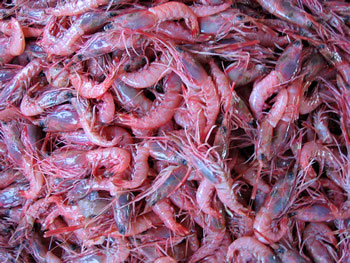 Shrimp landing, Pleoticus muelleri. (Photo: MinAgri)
New shrimp management plan questioning grows

ARGENTINA
Wednesday, May 16, 2018, 23:00 (GMT + 9)
The National Shrimp Management Plan that the National Undersecretariat of Fisheries intends to implement continues to generate criticism and questioning from various sectors.
Fishing companies operating in Comodoro Rivadavia insist that they will be directly affected by the decision adopted by the Federal Fisheries Council (CFP), which agreed with the consent of Chubut and Santa Cruz, on a total ban for shrimp (Pleoticus muelleri) in the waters of San Jorge Gulf.
As compensation for that measure, the provinces would receive a quota of tonnes of shrimp, but the fishermen of southern Chubut argue that the distribution is discretionary and they are not guaranteed raw material for the maintenance of the plants, Diario de Madryn reported.
The fishing companies complain that the closure of this area causes a noticeable increase in processing costs due to the higher price of raw material and higher freight costs to bring raw material from other ports to the plants installed in Comodoro. They also question the impact of the payment of the supply rate that the authorities of that town charges for fish entry on trucks to be processed in the plants, that newspaper said.
The firms explain that this, in the end, leads to a reduction in the quality of the raw material, which affects the final product and its market value.
Besides, companies from Comodoro Rivadavia had already publicly rejected the chamber lobby of Mar del Plata to repeal Resolution 1113/88 (SAGyP). National authorities are exerting pressure to eliminate the requirement that the vessels dedicated to the shrimp catch have less than 40 metres in length and a power not exceeding 2000 HP, which would enable the entry of ships that is seriously questioned.
On the other hand, Mar del Plata's shipowners chambers also raised their observations on the initiative of the Fisheries Subsecretariat that must be approved by the Federal Fisheries Council.
In a meeting with authorities of the Ministry of Agribusiness of the Province of Buenos Aires, the shipowners chambers declared in favour of maintaining the status quo and postponing the implementation of the controversial management plan until some measures contained in the draft can be solved.
The chambers objected to the idea that the provinces of Chubut and Santa Cruz commit themselves not to allow the capture of shrimp in San Jorge Gulf now and in the next five years, and that as compensation, social quota be given to them, the journal Revista Puerto reported.
In this sense, they argue that there is no legal basis to grant a fixed quota of shrimp nor is there a basis to quantify the tonnes. "This makes it possible to create new permits, discriminates against other provinces and strongly devalues existing permits, impacting the economy of the actors adjusted to law," said Diego Garcia Luchetti, president of the Chamber of Shipowners.