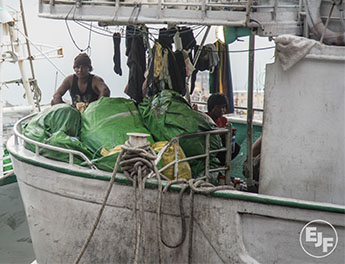 EJF documentary reveals shocking extent of human rights abuses in Taiwanese Fisheries. (Photo: EJF)
NGOs urge Taiwanese govt to boost migrant fishers' conditions

TAIWAN
Thursday, May 17, 2018, 16:00 (GMT + 9)
An NGO coalition is urging the Taiwanese government to improve conditions for migrant workers on fishing vessels, who, as they claim, currently face human rights abuses.
The coalition --called 'Human Rights for Migrant Fishers'-- is formed by organisations such as the Environmental Justice Foundation (EJF), Greenpeace, The Presbyterian Church in Taiwan Seamen and Fishermen's Service Center (PCTSFSC), Serve the People Association (SPA) Taiwan International Workers' Association (TIWA), Taiwan Association for Human Rights (TAHR), Yilan Migrant Fishermen Union (YMFU).
The group states that these abuses risk undermining the 'New South-Bound Policy' promoted by the Taiwanese government aims to strengthen cultural and economic relationships with Southeast Asia.
The coalition stresses that migrant fishers – who hail mainly from the Southeast Asian countries of Indonesia and the Philippines – continue to endure abuse on Taiwanese vessels because of the lack of appropriate laws, transparency and labour inspection measures.
For that reasaon, the group of seven Taiwanese and international NGOs insists the government must strengthen protection for migrant fishers and their basic human rights.
The coalition argues that with a lack of transparency in the fishing sector and no appropriate government measures in place to ensure their rights and inspect conditions, migrant fishers on Taiwanese vessels can and do fall victim to debt-bondage, forced labour, human trafficking and other serious human rights abuses.
Exploitation and Lawlessness: The Dark Side of Taiwan's Fishing Fleet from Environmental Justice Foundation on Vimeo.
To address the situation, the Human Rights for Migrant Fishers coalition strongly recommends the government should:
Ratify the International Labour Organization's Work in Fishing Convention 188;
Apply the Labour Standards Act to all the fishers and for the Ministry of Labour to oversee workers in both Taiwanese waters and on distant water fishing vessels;
Invest sufficient resources to ensure labour inspections are timely and accurately conducted;
Provide training for prosecutors and judges to increase the prosecution and conviction of human traffickers or human right abusers;
Develop a complaint channel so fishers can receive help while at sea;
Develop a delivery plan with clear timelines to address the above measures;
Work with NGOs to review the process regularly.