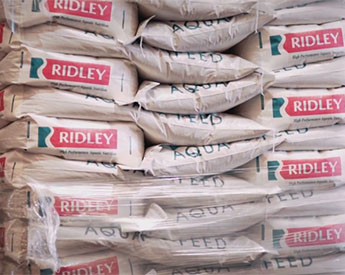 Ingredients for auqaculture feed. (Photo: Ridley)
Ridley intends to boost shrimp feed ingredient sales

AUSTRALIA
Wednesday, June 13, 2018, 02:40 (GMT + 9)
Ridley Corporation Limited has decided to appoint Investec to explore options to speed up the development of shrimp feed ingredient NovacqTM.

In the trials that were performed, this product has demonstrated a significant uplift in shrimp biomass when added to the feed at an inclusion rate of 5 per cent. The increase in biomass is derived from a combination of higher survival rates, accelerated shrimp growth and improved conversion of feed consumed into flesh, and general well-being of the crustacean.

Further potential benefits have been observed with regard to disease resistance, reduction in nitrogen outputs and a shorter harvest cycle duration.
To date, farm and laboratory trials have demonstrated performance improvements of 33 per cent+ against equivalent control diets with no NovacqTM inclusion.

Ridley highlights that significant progress has been made on the NovacqTM applied R&D project at Ridley's current production sites, namely Yamba in New South Wales, Australia and Chanthaburi in Thailand.

In Australia several shrimp feed customers have used NovacqTM-inclusive diets on a profit share arrangement for the recently concluded Australian growing season.

In Thailand Ridley expects to include locally produced NovacqTM in the Chanthaburi feedmill diets for commercial-scale farm use in the second half of the 2018 calendar year. The firm is committed to scaling up production volumes there both in the feedmill joint venture and in the 100 per cent Ridley owned production of NovacqTM at the 14 ponds it has under long term lease and in which it is currently producing the ingredient for inclusion in local feed production.

With Thailand Board of Investment approval received in February 2018, Ridley is now looking to expand the production facility from 14 ponds to 50 ponds in the next twelve months and to commence work on a blending plant in Thailand.

NovacqTM has generated worldwide interest and Ridley has secured the exclusive rights from its research partner, CSIRO, to produce and market the additive worldwide, with the exception of China and Vietnam, where it has non-exclusive marketing rights for Australian Made Licensed Products.

To accelerate the rollout of the feed ingredient, the firm is now considering a broad range of options, including the potential for a third party investment in the ingredient.

Ridley expects that Investec will assist the company to maximise the value of NovacqTM for the benefit of its shareholders.


editorial@fis.com
www.fis.com