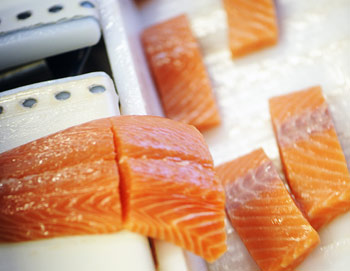 Norwegian salmon pieces. (Photo: EFF, Tom Haga/NSEC)
Salmon price status at week 23

NORWAY
Wednesday, June 13, 2018, 22:30 (GMT + 9)
The volumes of fresh Norwegian salmon exported in week 23 are flat versus last week, but up 3,945 tonnes (+23,6 per cent) from the
corresponding week last year, reports Fish Pool ASA.
The Fish Pool Index reports that in the last four weeks the prices of the salmon market (for fresh salmon between 3 kg and 6 kg, FCA Oslo) and the export volumes were as follows:
Future prices of Fish Pool
The term prices reflect the expectations of Fish Pool members for the next 24 months. The prices are evaluated by the contracts that have been entered into, and by the interest to buy or sell in Fish Pool, and are only indicative.
The sales for the quarter Q3 2018 were traded at NOK 60.50. The contracts for the periods September and October 2018 were traded at NOK 58.00.
The sales from June to December 2018 were traded at NOK 62.00.
The contracts for the quarters Q3Q4 2018 were traded several times and the last one at NOK 61.75. The sellers were at the same level.
The buyer for the year 2019 was settled at NOK 61.70 versus a seller at NOK 62.50.

Norwegian Seafood Council | Norges sjømatråd - Headquarters