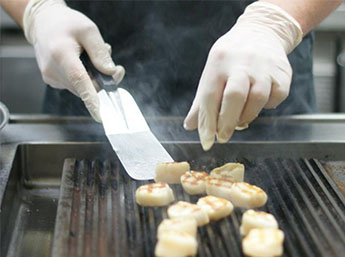 Scallops. (Photo: Good Catch / Emily Howgate)
About 71pct of fish served by contract caterers is imported, new study reveals

UNITED KINGDOM
Thursday, June 14, 2018, 00:50 (GMT + 9)
United Kingdom fishers are losing out on markets worth an estimated GBP 62 million because UK companies are buying-in sustainable fish from overseas, according to new investigation.
The study, performed by Sustainable Fish Cities, found that UK fish buyers are importing more sustainable varieties of fish traditionally caught in British waters from the United States, Turkey, Greenland and South America rather than risk selling fish that is unsustainably caught from UK waters.

"What a travesty that our fishers are losing out on so much business. Caterers in the UK want to buy UK fish and support our coastal communities but for some species they have no choice but to import from across the world to ensure that what they buy is sustainable," pointed out Ruth Westcott, co-ordinator of Sustainable Fish Cities.

In her view, the government simply has not invested enough in research, data collection, and monitoring of fishing vessels.

"Government will be releasing proposals for a new post-Brexit fishing regime soon, and this is the perfect opportunity to invest in monitoring systems on all vessels across the UK, and to eliminating the problems of data deficiency. The power is in our hands to make all UK fisheries verifiably sustainable, and thereby make sure they are the most attractive to fish buyers," Westcott.
Foodservice companies have rushed to adopt sustainable fish buying policies, to their great credit, and to help ensure they can meet government buying standards and satisfy customers increasingly concerned about sustainable fishing.
Many have signed the Sustainable Fish Cities pledge, committing to buying species considered 'fish to eat' by the Marine Conservation Society or with a certification such as the Marine Stewardship Council or Aquaculture Stewardship Council. This means that, at the moment, many popular choices from the UK are off-limits.
The investigation points out that all the species found to be imported (instead of sourced locally), are down-graded for sustainability in the Marine Conservation Society ratings - at least in part - because of data deficiency or poor management. For scallops, for example, lack of comprehensive and up to date population assessments mean scientists are concerned about the impact of fishing on the health of the stock. Nephrops, which are turned into pub-favourite scampi, could be improved with better vessel monitoring, and controls to prevent overfishing in specific areas.

Sustainable Fish Cities found that the oversees alternatives used instead of the local counterpart were the following:
Scallops: mainly sourced from the US and Patagonia. Imports of scallops have increased from GBP 15.9 million to over GBP 40 million in the last five years. Patagonian and US scallops are green-rated by the Marine Conservation Society and lots are MSC certified. Hand-dived scallops from the UK – a more sustainable option – are used in some cases.
Nephrops: sourced only from the west coast of Scotland and from Ireland, where the stock is in better shape.
Large prawn: caters were found to be using coated or breaded warm-water prawn from responsible-certified farms imported from Thailand, India and Vietnam.
Seabass: caterers were found to be importing farmed seabass from the Mediterranean, including Greece and Turkey.
Halibut: Greenland and Iceland stock are in better shape and the data to confirm this is better. The fishery is managed using licences, gear restrictions, VMS, recording of prohibited species and logbooks. New studies have outlined where vulnerable habitats are found for better avoidance. We found evidence of caterers importing wild-caught halibut from Greenland and farms in Norway.
Sustainable Fish Cities considers that as part of a post-Brexit fishing regime, the Government's aim should be for all UK fisheries to be verifiably sustainable, and the resources provided to invest in research, data collection, monitoring, sustainability certification and protection of sensitive areas.