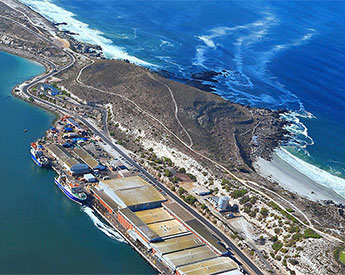 Sea Harvest seafood processing plant. (Photo: Sea Harvest)
Sea Harvest reaches deal to buy Viking Fishing assets

SOUTH AFRICA
Thursday, June 14, 2018, 01:30 (GMT + 9)
A consortium led by frozen fish supplier Sea Harvest Group reached a deal to buy the fishing business of Viking Fishing Group for ZAR 885 million (USD 66.9 million).
The deal will be funded by the consortium through a combination of cash, bank loans, an issue of 19.2 million Sea Harvest ordinary shares and vendor funding, the Group said in a statement.
Since listing in 2017, Sea Harvest has actively sought to grow its business through acquisitions, as part of its strategy to become one of the largest and most diversified food and seafood product black-owned firms.
Privately held Viking Group was founded in 1980 and its fishing business operates a fleet of 30 vessels along the South Africa coast from Cape Town to Maputo in Mozambique.
"The acquisition of the Viking Group fits the group's investment criteria and Sea Harvest is confident of the value that a combination of Sea Harvest and the Viking Group would generate," the Group pointed out.
The proposed acquisition would significantly increase black ownership in the fishing industry due to the strong transformation credentials of Sea Harvest and ensure the preservation of 1,600 jobs, 90 per cent of which consisted of historically disadvantaged individuals, particularly in the ports of Mossel Bay, Saldanha Bay and Cape Town and the rural communities of Kleinzee and Gansbaai.
Related articles:
- Sea Harvest getting closer to buy Viking Fishing assets
- Sea Harvest plans to acquire Viking Fishing