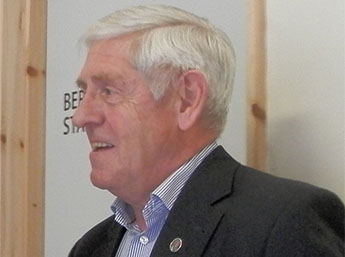 Faroese Foreign and Trade Minister Poul Michelsen. (Photo: Eileen Sanda/CC BY-SA 4.0)
Trade deal with Russia could favour Faroese seafood exports

FAROE ISLANDS
Thursday, June 14, 2018, 02:20 (GMT + 9)
The Faroe Islands aim to sign a final free trade agreement in 2019 with Russia and the remaining countries in the Eurasian Economic Union (EEU).
The decision, announced by Faroese Foreign and Trade Minister Poul Michelsen, will let the country remain one of Russia's biggest foreign supplier of fish after it displaced Norway due to the sanctions with the West that followed Moscow's annexation of Crimea in 2014, The Moscow Times reported.
The boom in exports to Russia began in 2013, when the European Union in turn imposed sanctions on the Faroe Islands in a dispute over fishing quotas.
"(That) created major difficulties for our economy. This was when Russia came to the rescue and greatly increased purchases with us," Minister Michelsen told Reuters in an interview.
Official data reveal that driven by exports of farmed salmon, the Faroese economy has flourished in recent years, growing nearly 7 per cent in 2016.
Michelsen explained that their seafood exports to Russia amount to roughly DKK 2.4 billion (USD 380 million) a year.
He also pointed out that the aim is to kick off free trade talks with EU members, Russia, Kazakhstan, Armenia, Belarus and Kyrgyzstan after signing a declaration of intent in August.
The minister recalled that before the quota dispute, 80 per cent of their fish exports went to the EU bloc but it has declined to 43 per cent at present.
"We were wrong to trust the EU. So now we're pursuing a strategy not to put all our eggs in one basket and become less vulnerable by distributing exports to several countries," Michelsen said.