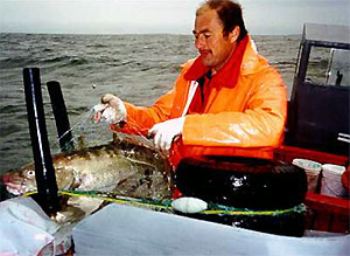 Cod fishery. (Photo: osl.gc.ca)
DFO reduces northern cod TAC by 25pct

CANADA
Thursday, June 14, 2018, 03:20 (GMT + 9)
The federal government has decided to reduce this year's total allowable catch (TAC) for the Northern cod fishery by 25 per cent relative to 2017.
Based on a regional stock assessment performed by Fisheries and Oceans Canada (DFO), a new conservation and harvesting plan (CHP) is being devised to carry out a new management approach for the Northern cod (Gadus morhua) fishery for Northwest Atlantic Fisheries Organization (NAFO) Divisions 2J3KL.
The new fishery management approach will include measures to ensure catches are distributed throughout the season and do not exceed 9,500 tons.
The CHP will continue to recognize that harvesters have availed of the Department's combining policy and made investments to acquire additional allocations.
Management measures previously in place for this fishery will continue, including: gear restrictions and gear limits, small fish protocol, monitoring of landings, logbook completion, no Buddy- up, medical designations only, harvesters will not be restricted to fishing in the bay of their homeport, harvesters will be able to fish outside the 12 mile limit and fall fishery option.
The Fish, Food and Allied Workers Union (FFAW) President Keith Sullivan says the reduction ignores community considerations of Newfoundland and Labrador as well as those depending on coastal resources.
He says the cod fishery already had a sustainable catch rate of three per cent of the biomass, considerably less than that of Iceland which has a catch rate of 25 per cent.
It also runs counter to the federal government's own proposed amendments to the Fisheries Act, according to Sullivan, which he says explicitly adds the need for socioeconomic considerations in fisheries management decisions.
The province's fishery has suffered a number of blows in recent years with continued declines in northern shrimp and snow crab and the failure of any significant rebound in cod stocks.
Meanwhile, Oceana considers that this approach goes against scientific advice to reduce fishing pressure to the lowest possible level for the depleted stock.
"We are disappointed that this level of fishing will be permitted for this depleted stock, which is deep in the critical zone," said Robert Rangeley, Director of Science, Oceana Canada.
"Given the critical state of this stock the Minister should have only allowed a modest harvest. In addition, DFO should have mandated the collection of scientific information using appropriate catch monitoring tools and levels for the commercial and recreational fisheries," Rangeley added.
Oceana stresses that decades after its collapse, Northern cod is still without a rebuilding plan to sustainably manage the fishery and support the recovery of its population. Therefore, the NGO is calling on the Minister to make rebuilding depleted fish populations, such as Northern cod, a priority.