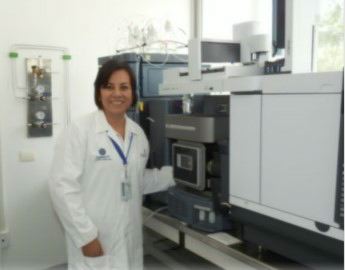 Dr. Neith Aracely Pacheco López, researcher at the Southeast of CIATEJ unit. (Photo: SAGARPA)
New ways to add value to tilapia developed

MEXICO
Thursday, June 14, 2018, 21:40 (GMT + 9)
Scientists from the Centre for Research and Assistance in Technology and Design of the State of Jalisco (CIATEJ) are working on new mechanisms to process tilapia and develop other ways to market this resource.
Dr. Neith Aracely Pacheco López, researcher at the Southeast of CIATEJ unit, works on the development of a product made with tilapia meat. It is a pie made with the fillet of this aquatic animal that will be flavoured and vacuum packed to increase shelf life, informed News Agency Conacyt.
The manufacture of this product is the effort of a Yucatecan company that commercializes tilapia, Agrosistemas Yaxchilam, and CIATEJ, that joined to work on a project, supported by the National Council of Science and Technology (CONACYT) in order to expand the limits of the market thanks to the technological methods that are developed from the research institution.
As a result of this collaboration, and with the aim of innovating in tilapia production, the production company and CIATEJ participated in Conacyt Innovation Stimulus Program (PEI), which resulted in obtaining financial resources to investigate new methods to eliminate the need to commercialize cold tilapia.
The new product developed in CIATEJ seeks to venture into the market with a presentation that will be easy to heat in a kitchen or microwave oven and that will not contain artificial preservatives to extend its shelf life.
To make this presentation, CIATEJ laboratories worked on the development of a procedure to economize and systematize production. The process considers the pie preparation and cooking, which eliminates microorganisms that can cause damage, and vacuum packaging. The final product does not need refrigeration and has a shelf life of up to six months.
"Another advantage is that as it is subjected to a heat treatment, it does not need any artificial additive for conservation, we use natural additives," says the doctor. In addition, the process to which the product is subjected helps fish meat retain the presence of omega 3.
This project, "Development of flavoured prototypes of portioned tilapia in high vacuum packaging at pilot level to increase shelf life and consumption of omega 3", was supported with the Program of Stimuli for Innovation 2017, and to Dr. Pacheco López, it is an industry-research collaboration scheme that must be replicated in other production models.
The investigation to elaborate this product also included a series of sensory tests to qualify its quality, which obtained an acceptance superior to 85 per cent, and to establish a formulation that serves as base for the massive production of these tilapia pies.
Dr. Pacheco López argues that the procedure could be replicated in other marine products, but the specific conditions for each marine species would have to be developed. Regarding the patent registration of this process, the researcher said that the application is already being processed at the Mexican Institute of Industrial Property (IMPI).