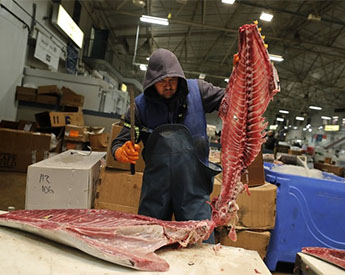 A fish saler cutting yellowfin tuna. (Photo: AP Photo/Julie Jacobson)
AP investigation reveals leading seafood distributor's fraud

UNITED STATES
Friday, June 15, 2018, 01:30 (GMT + 9)
An investigation performed by Associated Press (AP) reveals that a leading sustainable seafood distributor who promised wild-caught, domestic fish traceable back to a dock, has been duping chefs across the United States.
The investigation claims that preliminary DNA tests performed on products traded by the national distributor Sea To Table suggest that some of its yellowfin tuna likely came from the other side of the world, and reporters traced the company's supply chain to migrant fishermen in foreign waters who described labour abuses, poaching and the slaughter of sharks, whales and dolphins.
The New York-based distributor was also offering species in other parts of the country that were illegal to catch, out of season and farmed.

Over the years, Sea To Table has become a darling in the sustainable seafood movement, building an impressive list of clientele, including celebrity chef Rick Bayless, Chopt Creative Salad chain, top universities and the makers of home meal kits such as HelloFresh.
"It's sad to me that this is what's going on," said chef Bayless, who hosts a PBS cooking series. He had worked with Sea To Table because he liked being tied directly to fishermen.

As part of its reporting, the AP staked out America's largest fish market, followed trucks and interviewed fishermen who worked on three continents. During a bone-chilling week, they set up a camera that shot more than 36,000 time-lapse photos of a Montauk harbor, showing no tuna boats docking.

At the same time, AP worked with a chef to order fish supposedly coming from the seaside town. The boat listed on the receipt hadn't been there in at least two years.
The AP focused on tuna because the distributor's supplier in Montauk, the Bob Gosman Co., was offering chefs yellowfin tuna all year round, even when federal officials said there were no landings in the entire state.
Some of Gosman's foreign supply came from Land, Ice and Fish, in Trinidad and Tobago.
Reporters also tracked Sea To Table's supply chain to fishermen abroad who earn as little as USD 1.50 a day working 22-hour shifts without proper food and water.

On the other hand, Sea To Table owner Sean Dimin emphasized his suppliers are strictly prohibited from sending imports to customers and added violators would be terminated.

Dimin said he communicated clearly with his customers that some fish labelled as freshly landed at one port was actually caught and trucked in from other states, but some chefs denied this. Federal officials described it as mislabeling.
Sea To Table also promoted fresh blue crab from Maryland in January, even though the season closed in November. In addition, the company said it never sells farmed seafood, citing concerns about antibiotics and hormones. But red abalone advertised from central California are actually grown in tanks.
Dimin said farmed shellfish "is a very small part of our business, but it's something that we're open and clear about." When asked to provide evidence that the company has been transparent about its use of farmed shellfish, he paused and then replied, "There's nothing to hide there." However, days later, he said he decided to drop aquaculture from his business because it contradicts his "wild only" guarantee.
As part of the investigation, the AP watched the loads arrive at the company's loading dock in Montauk, just as the sun was rising on the tip of Long Island.
The tuna, swordfish and other species were then ferried inside Gosman's warehouse. They came from Blue Ocean in Brazil, Vietnam's Hong Ngoc Seafood Co., and Land, Ice and Fish in Trinidad and Tobago. Occasionally, boxes showed up from Luen Thai Fishing Venture and Marshall Islands Fishing Venture, part of a Hong Kong-based conglomerate that's a major supplier of sushi-grade tuna.


editorial@fis.com
www.fis.com