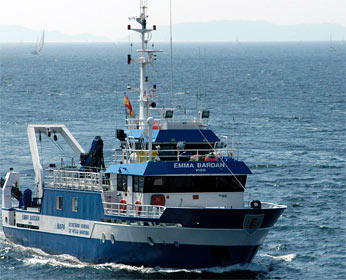 Oceanographic vessel Emma Bardan. (Photo: MARM)
Scientists test selectivity devices for Bay of Biscay's trawl fleet

SPAIN
Friday, June 15, 2018, 00:50 (GMT + 9)
The arrival of the oceanographic vessel Emma Bardan, which left from this same place 15 days ago, is scheduled to arrive at the port of Pasaia this Friday, carrying AZTI researchers who have carried out the 2018 Selectivity Survey.

The objective of this study has been to improve the selectivity of the net in terms of species and sizes of fish caught, which should favour a reduction of discarding of the unwanted catch.

During the survey, the scientists carried out various tests with selective devices complemented with other elements, which will later allow selecting the best technical solutions to be tested on fishing vessels and under commercial fishing conditions.

"The landing obligation imposes a new limit, not on what can be sold, but on what can be fished and, therefore, on the fishing effort that some of the fleets can exercise. Hence, the importance of improving the fishing selectivity," says Luis Arregi, an expert in Sustainable Fisheries Technologies, AZTI.

In the current context, it is more a priority than ever to work on improving the selectivity of fishing gear, since in 2019 the regulation of the Landing Obligation will be fully implemented. This regulation may involve operational changes for the trawl fleet that affect its profitability. On the other hand, it is very important to carry out more sustainable fishing to reduce the unwanted catches of certain species subject to catch limits (quotas), paying special attention to those that may be more limiting for the activity of the commercial fishing fleet.

In order to improve intra- and inter-specific selectivity and minimize unwanted capture levels (previously discarded), AZTI research staff works on:
Minimization of the environmental impact of fishing gear.
Improving the selection pattern of fishing gear.
Optimizing the performance of fishing activity.
Enabling the maintenance of fishing activity.
Improving the public image of fishing.
Search for integral solutions to fishing problems derived from regulatory changes.
The Selectivity Survey carried out this year addresses the improvement of the selectivity of the bottom trawling gear used by the Spanish freshwater trawl fleet, developed in French waters (ICES VIIIabd). In it, selective devices are proposed in different settings in order to improve the selectivity, with a system of net compartments that allows to evaluate the escape of the fish through the selective device and the codend of the trawl net.