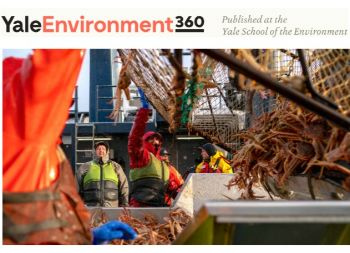 Fishers in the Bering Sea unload a pot of snow crabs. LOREN HOLMES / ANCHORAGE DAILY NEWS / e360.yale.edu
How Warming Ruined a Crab Fishery and Hurt an Alaskan Town

UNITED STATES
Friday, June 09, 2023, 07:00 (GMT + 9)
The following is an excerpt from an article published by Yale Environment:
As the world warms, extended spikes in ocean temperatures are triggering the collapse of key marine populations. In the Aleut community of St. Paul, Alaska, the loss of the snow crab fishery is having a profound economic impact and raising questions about the small city's future.
n a normal winter day on St. Paul, an island in the Bering Sea some 300 miles off the Alaskan coast, the community would be humming with activity. At the Trident Seafood crab processing plant, the diesel engines of commercial crab boats would be gurgling, and lifts would be running nonstop, transferring thousands of pounds of snow crab into the plant. "Those sounds are a reminder that money is coming in," St. Paul's city manager, Phil Zavadil, said in February from his office in city hall. But instead, St. Paul, a mostly Aleut community of just under 500, was silent. From "an environmental aesthetic point of view," Zavadil admitted, the quiet was nice. "But it translates into the real-world [budget] cuts we're experiencing now."
Snow crabs caught in a crab pot. Courtesy from DANITA DELIMONT / ALAMY STOCK PHOTO
In early October 2022, for the first time ever, the Alaska Department of Fish and Game canceled the Bering Sea season for snow crab (also known as opilio crab) after an annual survey revealed an almost total population collapse. No Bering Sea community was hit harder than St. Paul, whose economy relies almost entirely on snow crab, thanks to Trident, whose plant there is the largest crab processing facility in North America. Most of Trident's some 400 workers are seasonal and come from outside St. Paul, but the facility generates millions for the city through a "landing tax" imposed on commercial fishing boats, a tax on crab sales, and fees for fuel, supplies, and support services for the snow crab fleet.
Fishermen and scientists had been growing increasingly worried about the Bering Sea's marine ecosystem since 2013.
Heather McCarty, of the Central Bering Sea Fishermen's Association, which manages community fisheries allocations for St. Paul, said in February that the city's tax revenues went from about $2.5 million two years ago to approximately $200,000 this year. "It was all snow crab all the time," she said at the time. "[Now] they have about a year's worth of reserves that will allow them to survive with the municipal services relatively intact, but, after that, it's anybody's guess how they'll actually pay for really basic things."
Fishers sort snow crabs caught in the Bering Sea. Courtesy from LOREN HOLMES / ANCHORAGE DAILY NEWS
Not long after the snow crab season was canceled, Bob Foy, science and research director of the National Oceanic and Atmospheric Administration's (NOAA) Alaska Fisheries Science Center, estimated that billions of crabs had been lost in just a few months' time. "We don't have a smoking gun, if you will," Foy said of the collapse. "Except the heat wave."
The St. Paul community, commercial fishers, and scientists like Foy had been growing increasingly worried about the Bering Sea's marine ecosystem since 2013, when a sustained period of light winds led to the creation of a massive hot spot in the eastern Pacific Ocean. "The Blob," as the swath of warm surface water was dubbed, turned out to not be a fleeting anomaly but a ballooning crisis. Over the next three years, it encompassed much of the North American West Coast, an area of about 3 million square miles.
A marine heat wave in August 2019. In deep red areas, the ocean surface was more than 5 degrees F warmer than normal. Courtesy from NASA / YALE ENVIRONMENT 360
The world's oceans have absorbed about 90 percent of the excess atmospheric heat generated by carbon dioxide emissions, which has manifested as an average sea surface temperature increase of 0.14 degrees per decade. When wind patterns weaken or shift, so too do ocean currents, gyres, and eddies — processes that essentially serve as the oceans' circulation system. Dennis McGillicuddy Jr., deputy director of the Woods Hole Center for Oceans and Human Health, describes the warming of both water and air as a kind of ever intensifying feedback loop. "The wind patterns are heavily impacted by the distribution of heat over the Earth, and since most of the heat is in the ocean, changes in the currents are going to change the heat distribution, which then feeds back on the winds," he says. "So, it really is a very tightly coupled system."
As waters warm and currents shift, prey species like krill decline in abundance or move to cooler water. The whales and salmon that feed on them must follow or face starvation. What may appear to be a single issue — a warming atmosphere — becomes a complex tangle stretching across ecosystems.
Author/Source: Andrew S. Lewis / Yale Environment | Read the full article by clicking the link here
editorial@seafood.media
www.seafood.media