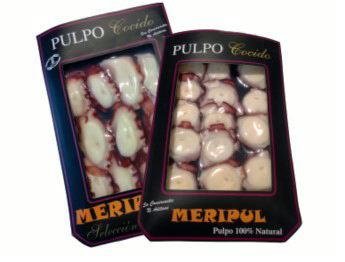 Meripul octopus. (Photo: Viveros Merimar)
Portobello plans to buy octopus producer to integrate it into Angulas Aguinaga

SPAIN
Thursday, July 12, 2018, 21:40 (GMT + 9)
Portobello Capital fund aims to buy Viveros Merimar, a leading company in Europe in the production and sale of cooked octopus, with the aim of integrating it into Angulas Aguinaga and expanding its current range of products.
This operation is part of the inorganic growth strategy launched by the fund that, through the so-called buy & build, seeks to buy smaller companies specialized in certain niche markets with the aim of fattening their investees, in this case Angulas Aguinaga, in order to obtain greater capital gains at the time of the divestment of the asset, reported El Economista.
To date, Viveros Merimar - which operates the Meripul brand - was one of the great competitors of Angulas Aguinaga in this segment of the market. With this operation, the Basque group would take the lead in the sector, which also includes other companies such as Pescanova, Discefa (in the hands of the GED fund) and Canosa.
Viveros Merimar is a family business founded at the beginning of the 1990s, which over the years has been increasing the number of international markets it reaches thanks to its efforts in the field of market research and R&D, marketing and commercial work.
The company, whose facilities for the preparation and distribution of seafood and fish are located in the Polígono de San Antolín, in Palencia, has almost a hundred workers and exports its products to about twenty countries.
Related article:
- Portobello fund to sell its stake in Iberconsa