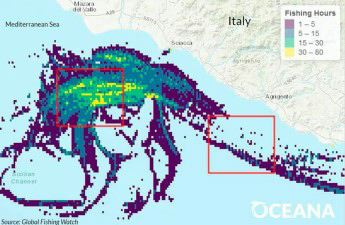 Fishing hours per km2 of trawlers operating East of Adventure Bank (Sicily Channel) between December 2016 and December 2017.
Oceana denounces illegal fishing in Mediterranean protected areas

EUROPEAN UNION
Thursday, July 12, 2018, 22:00 (GMT + 9)
A report released by Oceana reveals 41 potential cases of illegal, unreported and unregulated (IUU) fishing in the Mediterranean, based on data from Global Fishing Watch.

The findings were presented and discussed at two government meetings of the General Fisheries Commission of the Mediterranean (CGPM) without the countries clarifying what sanctions they had applied or if they would take punitive action, the conservation organization reported.

"Although the governments of the Mediterranean countries have committed themselves to fighting pirate fishing as part of the Sustainable Development Goals, at the moment of truth they turn a deaf ear to the presumed cases that are closest to them, in the Mediterranean itself. The data compiled by Oceana indicate easily identifiable fishing vessels that flagrantly transgress protected areas," says Lasse Gustavsson, executive director of Oceana Europe.

"Coastal countries do nothing to respect the law. The Mediterranean is the sea with the most overfishing in the world, over 90 per cent of the fish stocks. The inaction of governments jeopardizes the future of fishing in the Mediterranean and that of more than 300,000 fishermen and their families who depend on it for their food and sustenance," he adds.

Oceana report provides evidence of alleged illegal fishing activities within Restricted Fishing Areas created to protect juveniles, corals and other threatened habitats.

Specifically, Oceana identified more than 20 Italian bottom trawlers that had presumably caught fish for more than 10,000 hours in an area that has been restricted to protect hake juveniles in the Sicilian Channel, where the population of this species experiences high overfishing.

The situation could be even more serious, since official sources have confirmed fishing activities of vessels flagged by other countries (Tunisia, for example) that do not use Automatic Identification System and therefore, were not detected in the Oceana analysis. Hake is the species with the highest overfishing rate in the Mediterranean, with an average of seven times above sustainable levels.

Likewise, Oceana has detected alleged illegal intrusions of foreign ships in waters under the national jurisdiction of seven Mediterranean countries. In this regard, it points out that the legality of these fishing activities can not be verified, since the GFCM does not publish information on bilateral fisheries agreements, something that other regional fishing organizations do in other parts of the world. This lack of transparency makes it impossible to determine whether - for example - three EU flagged vessels that appeared to fish in waters under Libyan (> 900 hours) and Tunisian (> 1,500 hours) jurisdiction did or did not do so legally.