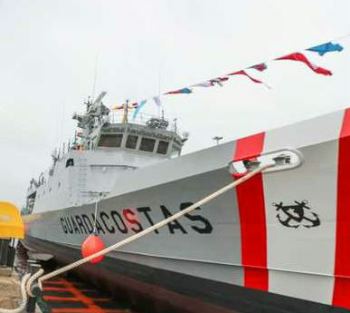 The units were built entirely in the Navy Industrial Services shipyards (SIMA-Chimbote)
Two new patrol boats added to control illegal fishing

PERU
Wednesday, August 05, 2020, 06:00 (GMT + 9)
The president of the Council of Ministers, Pedro Cateriano Bellido, led today in Chimbote, in the Ancash region, the launching ceremony of two modern maritime patrol boats and stressed that these vessels have state-of-the-art technology and will join in the work of protecting the Sea from Grau.

These are the BAP "Río Tumbes" and BAP "Río Locumba" naval units, which were built entirely in the shipyards of the Industrial Services of the Navy (SIMA-Chimbote) and their mission will fall on tasks of security, national defense and humanitarian aid.
In this sense, in statements to the press, the head of the Ministerial Cabinet highlighted the work of the Navy and SIMA and stated that it once again proves the efficiency and professionalism of these institutions.

"Furthermore, in an economic context such as the current one, it also proves that Peruvians are capable of carrying out and undertaking projects for the benefit of the Nation. When there is intention and dedication to service, things can be achieved for the benefit of the country and its citizens", he stressed.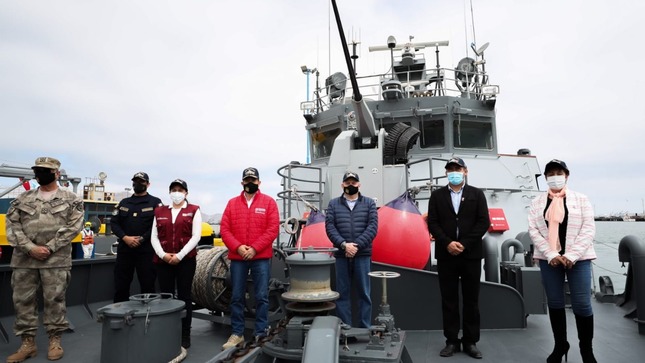 The head of the Presidency of the Council of Ministers (PCM) also expressed his satisfaction for having participated in the launching ceremony, which was held on the eve of the date of the birth of the Grand Admiral of Peru, Miguel Grau Seminario.

The patrol boats will enable actions to protect the environment, human life at sea, search and rescue, control of maritime traffic and maritime interdiction, as well as support in natural disasters and evacuation of victims. They will also be responsible for combating illicit drug trafficking, human trafficking, illegal fishing, smuggling, arms trafficking and piracy.
The modern coastguard units join the maritime patrol boats "Río Pativilca", "Río Cañete", "Río Piura" and "Río Quilca", delivered in 2015 and 2017 in support of the operations carried out by the port captainships, guaranteeing thus the defense of national interests and the improvement of the safety and well-being of the population.

The ceremony was held at the SIMA-Chimbote shipyards and was attended by Defense Minister Walter Martos Ruiz; and the Commander General of the Navy, Admiral Fernando Cerdán Ruiz, among other civil and military authorities.