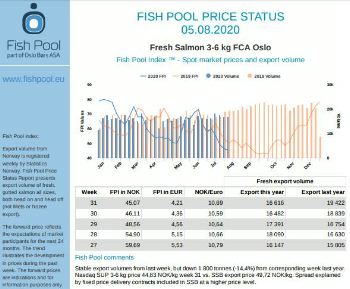 Fish Pool is an international commodity exchange located in Bergen, that trades salmon futures contracts.
Fish Pool Salmon Price Status Report for week 32

NORWAY
Wednesday, August 05, 2020, 18:00 (GMT + 9)
Stable export volumes from last week, but down 1.800 tonnes (-14,4%) from corresponding week last year. Nasdaq SUP 3-6 kg price 44,83 NOK/kg week 31 vs. SSB export price 49,72 NOK/kg. Spread explained by fixed price delivery contracts included in SSB at a higher price level, reports Fish Pool ASA.


Fish Pool forward prices
The forward prices reflect the expectations of Fish Pool members for the next 24 months. The prices are evaluated by the contracts that have been entered into, and by the interest to buy or sell in Fish Pool, and are only indicative.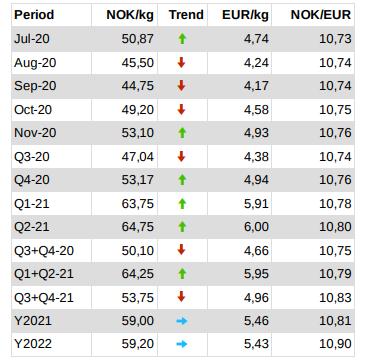 Fish Pool comments
Nov+Dec-20 buyer 54,35 vs. seller 56,00.

Q1+Q2-21 buyer 63,50 vs. seller 65,00.

Y2021 buyer 58,35 vs.seller 59,75.

Seller Y2022 at 59,50.