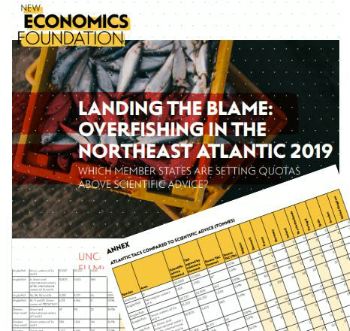 Cover of the latest NGO New Economics Foundation report.
Sweden leads catches that exceed Northeast Atlantic scientific advice

EUROPEAN UNION
Tuesday, February 12, 2019, 02:40 (GMT + 9)
Sweden ranks first in an annual list of European Union (EU) Member States whose fishing quotas exceed those recommended by scientists, compiled by a non-governmental organization in the United Kingdom.
The NGO New Economics Foundation (NEF) states that the EU will not reach its 2020 target of sustainably caught fish if EU ministers continue to lobby for quotas beyond limits urged by scientists.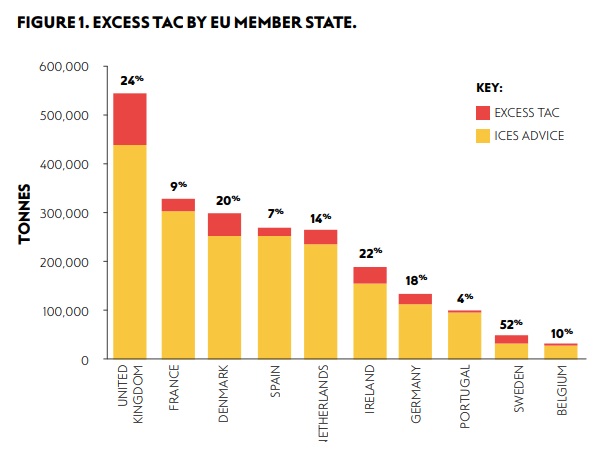 In its report, titled 'Landing the Blame', NFE claims that ignoring scientific advice on total allowable catch (TAC) for mackerel in Ireland contributed to the MSC's certification suspension, which estimated a downward trend in the health of the spawning mackerel stock in the north-east Atlantic. This decision affected Ireland, among other EU countries, and also Norway and the Faroe Islands.
For the fifth year on a row, NFE has prepared briefings to identify which Member States are standing in the way of more fish, more profits, and more jobs for European citizens.
The NOG insists that, if EU waters were properly managed, with damaged fish stocks rebuilt above levels that could support their maximum sustainable yield (MSY), their full potential could be enjoyed within a generation.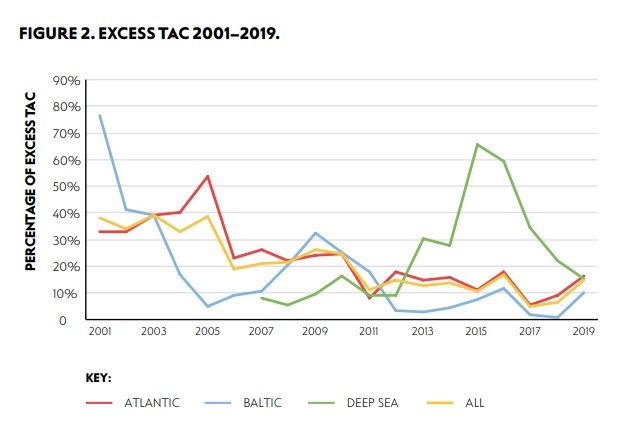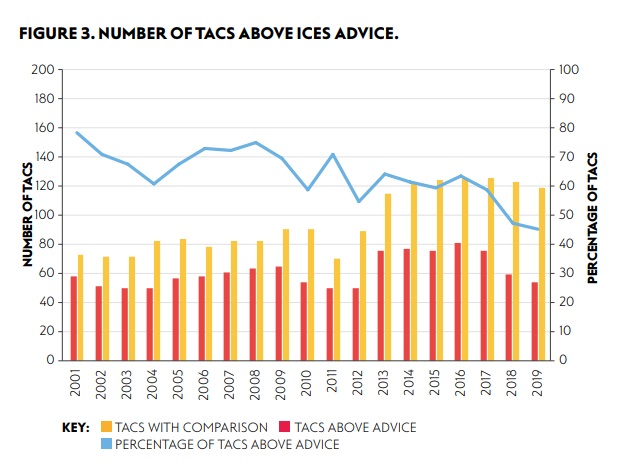 According to NFE, the historical analysis of agreed TACs for EU waters between 2001 and 2018 shows that, on average, two-thirds of TACs were set above scientific advice. While the percentage by which TACs were set above advice declined throughout this period (from 42 percent to 8 percent in all EU waters), the proportion of TACs set above advice did not.
In its report, the NGO notes that during the December 2018 negotiations, ministers set TACs for most EU commercial fish species for 2019. This analysis covers 120 TAC decisions taken and shows that, when had comparable scientific advice, 55 TACs were set above the recommended limits, representing an excess of around 312,000 tonnes.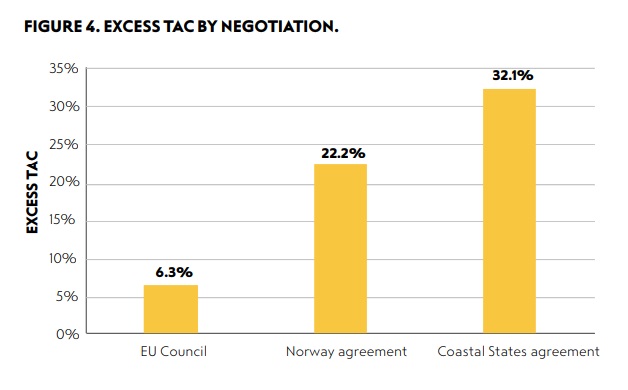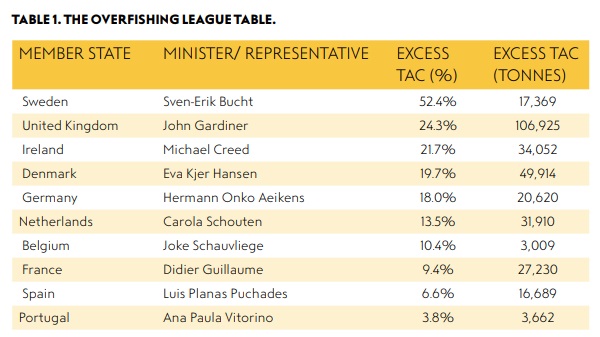 Note: Member States with fewer than five comparable TACs have been excluded, in order not to overattribute the results from a small number of decisions for a minor party
NFE says that this continues the trend of permitting overfishing in EU waters with Northeast Atlantic TACs set 16 percent above scientific advice on average, a 9 percent increase from the 2018 TACs. The earlier negotiations for the 2019 Baltic and deep sea TACs were also set above scientific advice, with 5 out of 10 and 8 out of 12 TACs exceeding advice, respectively.
For the 2019 Northeast Atlantic TACs, Sweden, the United Kingdom, and Ireland are at the top of the table of Member States with the highest percentage of their TAC in excess of scientific advice. These Member States were involved with TAC decisions that allow fishing at 52 percent, 24 percent, and 22 percent, respectively, above scientific advice, the report states.
The UK, Denmark, and Ireland are the worst offenders in terms of the total tonnage of TAC set above advice. Ministers representing these Member States have received the largest TAC increases above scientific advice in terms of tonnes and are therefore the most responsible for impeding the transition to sustainable fisheries in the EU, NFE reports.
To read the full report, click here.

editorial@fis.com
www.fis.com