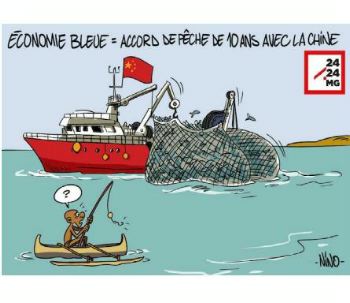 A cartoon that ran on the Malagasy news site 2424.mg. The caption reads "Blue Economy = 10-year fishing deal with China." Image courtesy of 2424.mg.
Opaque foreign fisheries deals leave empty nets at home

MADAGASCAR
Thursday, October 10, 2019, 20:20 (GMT + 9)
Malagasy fishers blame shrimp trawlers that ply coastal waters for their declining catches.
However, the bulk of industrial fishing in Madagascar's waters takes place far from shore and out of view. It's conducted by foreign fishing fleets working under agreements that critics say lack transparency.
Conservationists argue that these foreign vessels are also depleting the country's fish stocks and marine ecosystems.
With negotiations to renew a fisheries deal with the European Union having flopped late last month and uncertainty lingering over an enormous and controversial fisheries deal with a Chinese company, much is at stake for Madagascar's small-scale fishers.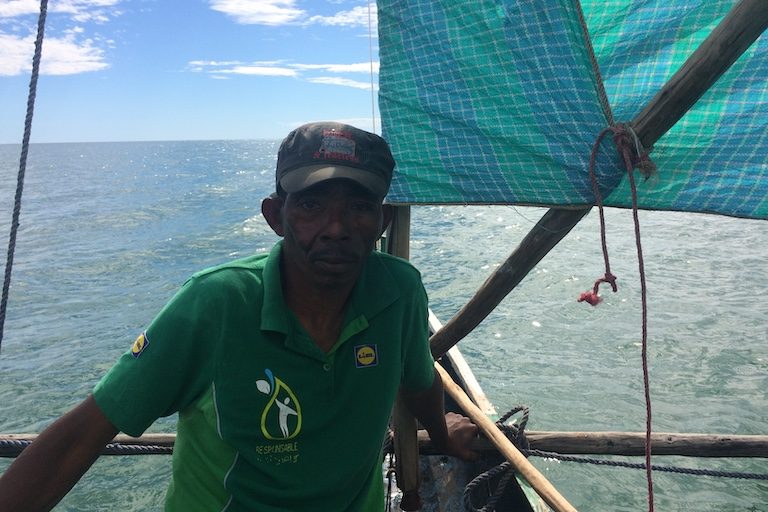 A fisher in Morondava, a city in southwestern Madagascar. Image by Edward Carver for Mongabay
When fishers on the west coast of Madagascar arrive home after a day at sea, children often poke their heads into the pirogues to see what's inside. People here say that it's not what it used to be: their catch is declining. Rightly or not, they blame industrial shrimp trawlers for the decline. The trawlers drag their nets along the seabed and take in much more than just shrimp. They work near the shore, right by the fishers' towns and villages.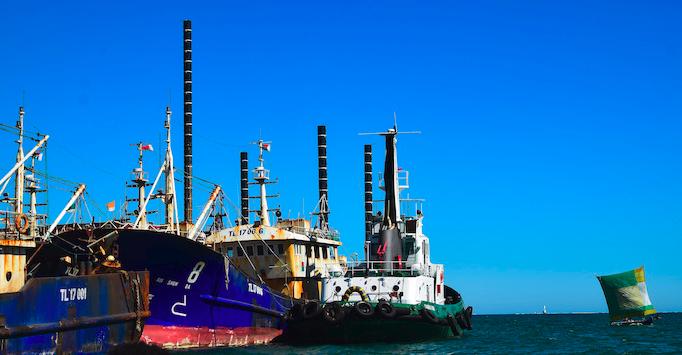 A local fishing pirogue sails past Chinese fishing vessels docked in the city of Toliara in May. Madagascar fisheries officials seized the six vessels, which had begun trawling off the southwestern coast in 2017. Local fishers had vocally objected to the vessels' presence in Madagascar waters. Image by Sam Friedberg.
This proximity makes the competition for shrimp and near-shore fish easy for local people to see and potentially do something about. Mihari, a network of local fishing associations, has called for an exclusive access zone for small-scale fishers along Madagascar's shores. And when a fleet of six Chinese vessels started trawling off the southwest coast in 2017, local opposition was fierce and eventually led to a government seizure of their equipment earlier this year.
However, the bulk of industrial fishing in Madagascar's waters takes place far from shore. It's conducted by foreign fishing vessels governed by international agreements that critics say lack transparency and are stacked against Madagascar's interests. With the vessels out of sight and the deals shrouded in secrecy, this form of fishing is nearly invisible to local eyes. Yet conservationists argue that it, too, is depleting the country's fish stocks and marine ecosystems.
A map showing industrial fishing activity in the western Indian Ocean during the last tuna season, which ran from late 2018 until early 2019. The map shows heavy activity by Asian longliners in Madagascar's waters. Longliners are notorious for unintentionally catching sharks, sea turtles, and seabirds such as albatrosses. Individual vessels can be tracked by zooming in and clicking on the dots. Green lines delineate the exclusive economic zones of Madagascar and other countries. Image courtesy of Global Fishing Watch.
This past tuna season, longliners from Japan, Taiwan and South Korea were very active. Hundreds of Chinese vessels could soon join the fray if a controversial $2.7 billion fishing agreement signed with a Beijing-based company a year ago comes to fruition. And until the end of last year, nearly 100 European vessels have been plying Madagascar's offshore waters as well. Late last month, representatives from the European Union and Madagascar met in Nosy Be, an island just off the coast of mainland Madagascar, to try to come to terms on a new fisheries agreement. They were not able to do so, a representative from the fisheries ministry told Mongabay, even though this was the third round of negotiations over the last year.
As the EU negotiations drag on and uncertainty lingers over the enormous Chinese deal, Madagascar's fisheries sector remains in flux, with much at stake for the marine ecosystems that small-scale fishers rely on.
Author: Edward Carver /mongabay.com | Read full article here