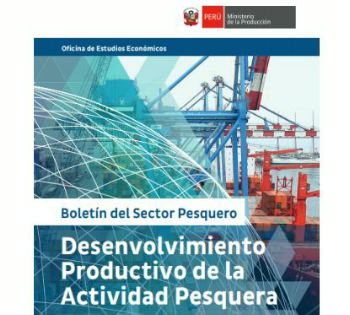 The OGEIEE is the advisory body responsible for assessing the socio-economic impact of the policies and interventions of the sector
Seafood landings grow more than 42% in August

PERU
Thursday, October 10, 2019, 21:00 (GMT + 9)
During the month of August, landings of the extracive fisheries sector grew by 42.6% in terms of volume, accumulating three consecutive periods upward.
The General Office of Impact Assessment and Economic Studies of the Ministry of Production (PRODUCE) indicated that in this month the total landing of hydrobiological resources amounted to 116,100 tonnes, representing 34,700 tonnes more than what was recorded in August 2018.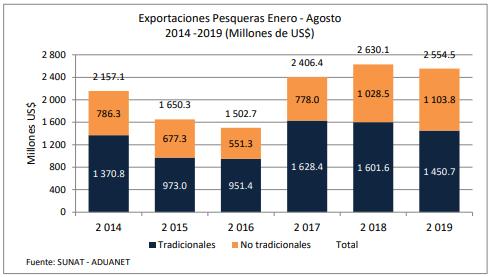 Fish Exports January - August 2014-2019 (Millions of US $)
The main variable of this important advance was the increase in landings of species oriented to direct human consumption (+ 40.7%), whose volume amounted to 112,600 tonnes.
"In the CHD fisheries, the landing of resources for the frozen industry (+74.5%), in the fresh state (+18.9%) and canned (+10.7%) grew. By species, the largest discharge of pota (giant squid), anchovy, hake, tuna and silverside stands out," said PRODUCE.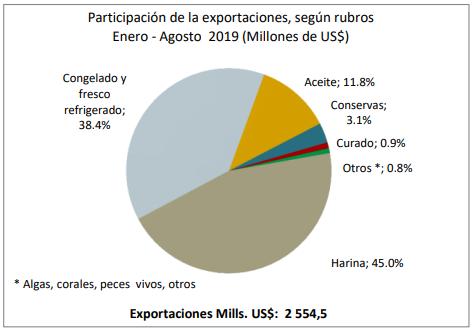 Share of exports, according to items - January-August 2019 (Millions of USD) | Source SNP
Likewise, anchovy landings destined for indirect human consumption also increased by 153.7%, to a total of 3,500 tonnes.
This result responds to the increase in anchovy landings in the southern zone, mainly in the ports of Pacocha (Moquegua) and Attic (Arequipa).