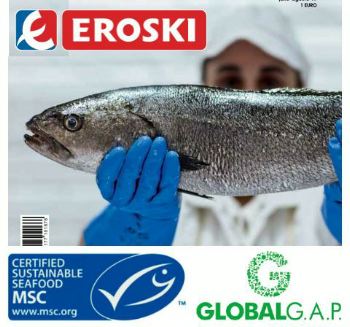 Eroski supermarket increases its purchases of certified sustainable fish

SPAIN
Friday, February 14, 2020, 02:00 (GMT + 9)
Spanish supermarket chain Eroski is advancing in its commitment to a more sustainable food model and announced that last year it bought 3,144 tons of fish with sustainability certification.

Of that total, more than 1,880 tonnes correspond to fish certified by the Marine Stewardship Council (MSC) and 820 tonnes to farmed fish with the GGN seal (GLOBALG.A.P. Number). In addition, the company highlights t hat it bought 392 tonnes of Pacific bonito caught with pole&line vessels and another 51 tonnes of fish with AENOR Responsible Fishing Tuna (APR) certificate among its purchases of canned fish.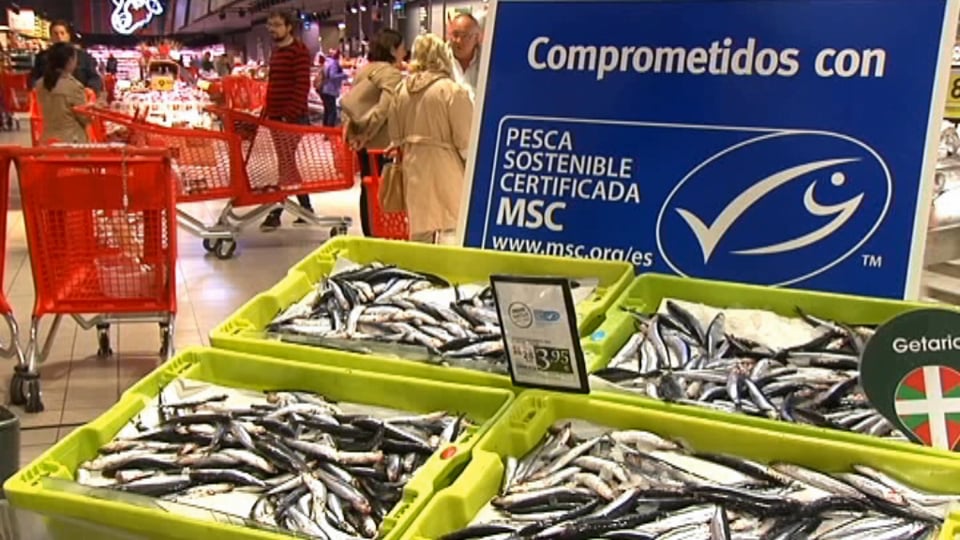 Eroski claims that, in this way, it goes one step further in consolidating its leadership in the marketing of more responsible foods as a basis for healthy and sustainable food products, a basic pillar in its "contigo" (with you) business model.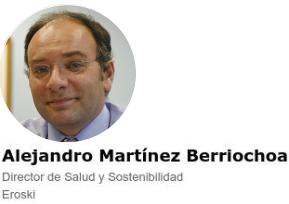 Fish products with a sustainability certificate are gaining space in our fishmongers. We thus offer guarantees to consumers that the fresh fish with ecolabel that they find in our counters come from sustainable fisheries and productions. At Eroski we work to permanently improve the environmental and social sustainability standards of all processes in the value chain, from the origin of production to store operations. The promotion of more sustainable food is part of our 10 Commitments in Health and Sustainability,"said Eroski Health and Sustainability Director Alejandro Martínez Berriochoa.

Three years ago Eroski became ago the first and only retail chain in Spain to pass the audit of the international organization MSC for the certification of the chain of custody of fresh fish from sustainable fishing grounds. The certification of Eroski's fishmongers has been progressive and currently reaches 342 counters of fresh fish, as well as eight logistic platforms of the group from which fresh fish is supplied to its network of stores.

The 1,880 tons of MSC-certified fish purchased by Eroski last year included anchovy, northern bonito, lobster, cod and surimi.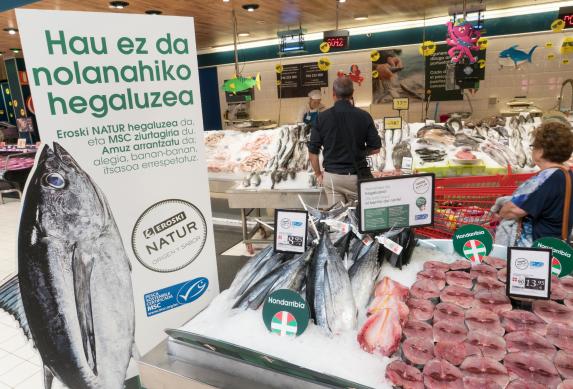 Also, two years agoEroski became the first supermarket chain in Spain and second in Europe to pass the audit of the GLOBALG.A.P certified aquaculture chain of custody, which accredits that the farmed species sold in its fish markets have been produced in a safe and sustainable way. Last year Eroski bought 820 tons of sea bream, sea bass, croaker, turbot and salmon with the GGN seal (GLOBALG.A.P. Number).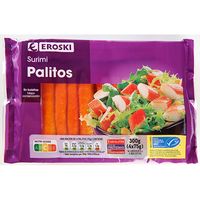 In its commitment to the most sustainable fishing gear, the retail chain also maintains an agreement with its suppliers of canned tuna by which they commit to supply according to the sustainability principles of the International Foundation for Sustainable Fisheries (ISSF).

The progress in the increase in the volume of tuna caught only with the most responsible fishing gear (pole and line fishing, APR, without FADs, MSC and FIP) now accounts for 30% of total purchases of canned tuna from sustainable and responsable fisheries. Eroski works only with suppliers that have signed their sustainable fishing policy that does not accept tuna from countries that have been warned with a yellow card by the EU for failing to comply with the measures approved by RFMOs and not establishing measures to end illegal fishing.