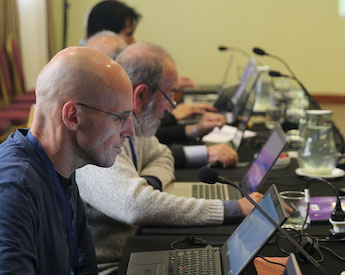 Meeting held in Valparaiso by the scientific committee of the South Pacific Regional Fisheries Management Organisation. (Photo: Subpesca)
SPRFMO Scientific Committee gathers information on jack mackerel

CHILE
Wednesday, June 13, 2018, 22:50 (GMT + 9)
Gathering and standardizing information for future analyzes related to the jack mackerel fishery in the southern area of ​​the Pacific Ocean was the purpose of a meeting held in Valparaiso, by the scientific committee of the South Pacific Regional Fisheries Management Organisation (SPRFMO)
The data will be used in a group meeting that will take place in September.
The SPRFMO is composed of several countries, including Chile, and was created in 2009. Its purpose is to ensure, in the long term, "the conservation and sustainable management of fisheries resources and the safeguarding of their ecosystems", through an "ecosystem and precautionary approach" in this vast maritime zone.
Specifically, the scientific committee of the SPRFMO met in a workshop to evaluate the stock of jack mackerel, with a view to a next meeting of that same group, which will take place next September, also in Chile.
The meeting held in Valparaiso was attended by representatives of Chile, Ecuador, China, the European Union (EU), the United States, Vanuatu and Peru, all of them members of the SPRFMO.
The Chilean delegation was represented by members of the Undersecretariat of Fisheries and Aquaculture (SUBPESCA), headed by Patricio Barría (head of the delegation), Silvia Hernández, Karin Mundnich, Cristian Quezada and Mario Acevedo. Representatives of IFOP, INPESCA and local universities also participated.
The updated information during the workshop will make it possible to advance in the analysis of future scenarios for the jack mackerel fishery as well as to address other matters relevant to the organization.
In Valparaíso, a meeting was also held to begin defining the vision, objectives, scope and results that a group engaged in monitoring jack mackerel habitat will have on behalf of the SPRFMO.