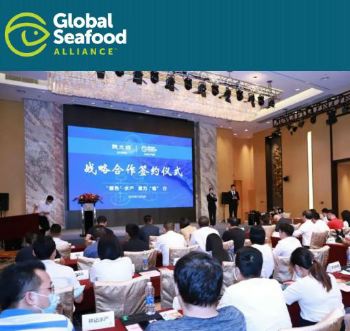 With the addition of Qdama, the industry-leading BAP program now has more than 30 Chinese retail and foodservice companies committed to seafood from B
Chinese Retailer Qdama Commits to Sourcing BAP Seafood

CHINA
Thursday, August 11, 2022, 07:00 (GMT + 9)
The following is an excerpt from an article published by Global Seafood Alliance:
Chinese retailer Qdama has pledged to source seafood from Best Aquaculture Practices (BAP)-certified producers as part of a memorandum of understanding (MoU) that the company signed with the Global Seafood Alliance (GSA) on July 22 in Guangzhou.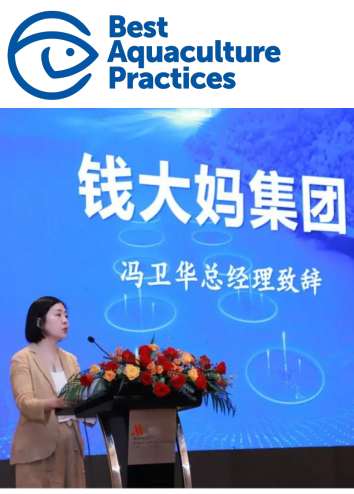 To help provide assurances to consumers, Qdama has agreed to begin sourcing BAP seafood to strengthen its commitment to responsible seafood. BAP is the world's largest and most comprehensive third-party aquaculture certification program, with standards encompassing food safety, environmental responsibility, social accountability and animal health and welfare.
<---- Weihua Feng, general manager of Qdama, speaks at Qdama's signing ceremony - Photo courtesy from GSA
"Food safety is the most important thing for food. It's the basic bottom line. Fresh food companies must attach great importance to [food safety], and it is also the lifeline for the sustainable and healthy development of enterprises," said Weihua Feng, general manager of Qdama. Feng also emphasized Qdama's commitment to the environment and sourcing healthy, high-quality ingredients. Tanggen Cheng, head of Qdama's Quality Control Center, said that Qdama provided Chinese consumers with 20,000 tons of seafood in 2021.
Steve Hart, GSA's VP of market development, sent his well wishes to Qdama via a recorded video. "Qdama recognizes that it needs to provide assurances to its customers that the seafood products it purchases are produced in a safe and responsible manner. The BAP program offers those assurances," said Hart. "The GSA community looks forward to collaborating with Qdama and Qdama's seafood suppliers to popularize responsible sourcing in seafood supply chains and continue to grow support for BAP throughout Asia." (continues...)
Source: Global Seafood Alliance / Read the full article by clicking the link here
editorial@seafood.media
www.seafood.media