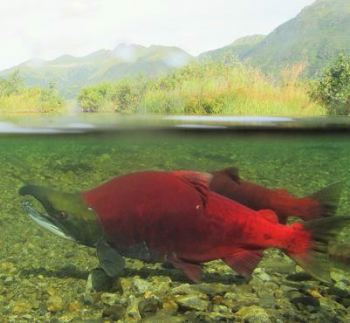 Spawning sockeye salmon swim in a stream in Alaska. Credit: Katrina Mueller, U.S. Fish and Wildlife Service
Wild Alaskan Company Funds New Research Exploring Relationship between Sockeye Salmon Spawning and Mineral Deposits

UNITED STATES
Tuesday, January 12, 2021, 07:00 (GMT + 9)
Investigation, led by Dr. Nathan Putman, to provide new insights into how salmon use magnetic fields to navigate the globe and the effects of mineral extraction on fish
HOMER, AK – Wild Alaskan Company, a direct-to-consumer sustainable seafood membership company, today announced it was funding new research to examine the relationship between mineral deposits and how salmon navigate the world, including how they return to their spawning areas.

The r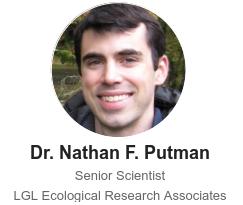 esearch, which will be led by Dr. Nathan F. Putman, Senior Scientist at LGL Ecological Research Associates and one of North America's top experts on animals' use of magnetic fields in migratory navigation, will specifically investigate the relationship between human activities, such as mining, energy generation or certain hatchery conditions, and the successful migration of these fish.

"Scientists are only beginning to understand salmon rely on the earth's magnetic field in a map-like way to assess where they are along their migratory pathway and in a compass-like way to maintain a heading during their movements," said Dr. Nathan F. Putman, the lead researcher of the new study. "The migration of salmon across disparate habitats requires a suite of environmental cues to move to the right place at the right time. For humans to interact with salmon in a responsible way, we need to understand what they need to carry out these movements. I'm excited to be partnering with Wild Alaskan to investigate this important question."

"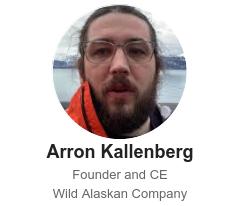 We started with a really simple question: Given that salmon rely on the earth's magnetic field to navigate, is it a coincidence that one of the largest mineral deposits in the world happens to be located near the largest sockeye salmon spawning grounds in the world?", said Wild Alaskan Company's Founder and CEO Arron Kallenberg. "The reality is, we don't know. But we do know that Dr. Putman's existing research suggests that we should examine this question much further. Also, everyone can agree that it would be prudent to obtain a definitive answer before extracting a mineral deposit that might be playing a necessary role in allowing the fish to find their way home and reproduce."

Specifically, Dr. Putman will run a high-resolution magnetic model for 304,000 latitude/longitude points over the past 20 years, looking at the impact of mining activity on fluctuations in local geomagnetic fields. By comparing the rate of change in the geomagnetic field near mining sites to baseline background variability, researchers can identify potential anthropogenic impacts of mineral extraction on geomagnetic field variation. Comparing the magnitude of mining-driven change to the natural variation encountered by salmon in the course of their migratory patterns will help understand the potential for anthropogenic change to disrupt their migratory patterns. Dr. Putman has authored previous research showing that, in laboratory settings, there is evidence that humans can cause local distortions to the magnetic field that disrupt this ability in salmon.

The new research comes as developers of the proposed Pebble Mine, one of the largest mineral deposits in the world, have committed themselves to not taking any step that would impact the delicate life-cycle of local salmon.
editorial@seafood.media
www.seafood.media