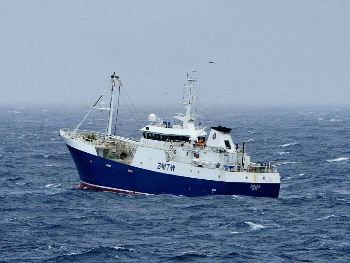 F.V. Janas in the Southern Ocean. (Photo: Sarah Williams/Stockfile)
Tasmanian fishing company faces record fine for diesel spill

AUSTRALIA
Thursday, October 12, 2017, 02:10 (GMT + 9)
The captain and the operator of a commercial fishing vessel were fined a total of AUD 45,000 (USD 35,000) plus court costs for diesel discharge at Hobart Port into the River Derwent in November 2015.
Court documents reveal that at the time, approximately 400L of diesel fuel was accidentally discharged from the vessel Janas, operated by Australian Longline, during refuelling in Hobart Port at Macquarie Wharf No 3.
The incident occurred due to human error when the Chief Engineer failed to check a fuel valve and the crew failed to ensure that a bung in the 'save all' was in place during the refuelling. The diesel spill extended for about 3-400m from the vessel, and no environmental harm was recorded as a result.

The Director of the Environment Protection Authority (EPA), Wes Ford, welcomed the Magistrate's decision and hoped that the fine, which is the largest single penalty of its kind imposed in Tasmania to date, would encourage people to take greater care in preventing such pollution incidents.
"The significant sentencing today sends a clear message that polluting the environment – under any circumstances – is unacceptable and that action will be taken to prosecute offenders," claimed Ford.
The Hobart Magistrates Court acknowledged that the Janas crew responded promptly to the incident and cooperated with the investigation.
In sentencing, he also acknowledged that both the company and the master had been charged and were required to pay court costs in addition to the fine.
The Tasmanian-based international fishing company fished in some of the world's most environmentally sensitive waters, including Macquarie Island and Antarctica and has plans to expand into waters off South America, South Africa, New Zealand and the United States.

editorial@fis.com
www.fis.com