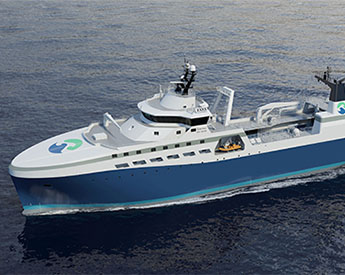 The pelagic trawl vessel to be designed and equipped by Rolls-Royce. (Image: Rolls-Royce)
Rolls-Royce signs GBP 15 million contract for fishing vessel

UNITED STATES
Tuesday, June 12, 2018, 02:50 (GMT + 9)
Rolls-Royce Marine has signed a GBP 15 million contract with Louisiana-based Thoma-Sea Marine Constructors, LLC for the development of a state-of-the-art pelagic trawler for Arctic Storm Management Group, LLC, located in Seattle.
The 100 metre-long vessel will be equipped with a processing plant for fillet, surimi, fishmeal and fish oil. It will also be able to accommodate a crew of more than 150 people.
"This will be the largest and most advanced fishing vessel ever to be built in the US. The fact that both the design and the supply and integration of the comprehensive equipment package is provided from, and coordinated by, Rolls-Royce is a key enabler for us," pointed out Doug Christensen, CEO of Arctic Storm Management Group.
The vessel, scheduled for delivery in 2021, will be arranged for pelagic trawl operation in the North Pacific waters catching wild Alaska Pollock and cod fish.
In addition to the design, Rolls-Royce will deliver an integrated package of advanced ship technology and equipment to the vessel.
Commenting on the choice of Rolls-Royce as the ship's developer, Doug Christensen added: "It is a critical factor to have a technology partner with a strong presence in the region who are able to support the construction of the vessel at the yard, in addition to having a strong service organisation to support us during operations. We strive towards continuous improvement in everything we do, however this investment will take us a giant step forward," stated Christensen.
For his part, Knut Eilert Røsvik, Rolls-Royce – Marine, SVP Ship Design & Systems, said: "We are not only creating a fishing vessel together, but also a fully equipped, floating fish processing plant."
In addition to the design, Rolls-Royce will supply the propulsion system, which is designed to optimize and meet the requirements for low fuel consumption, reduced emissions and low noise and vibration levels.
Included in the Rolls-Royce supply is also the bow thruster, deck machinery systems, automation & control systems, power electrical system, steering gear and a flap rudder.

editorial@fis.com
www.fis.com