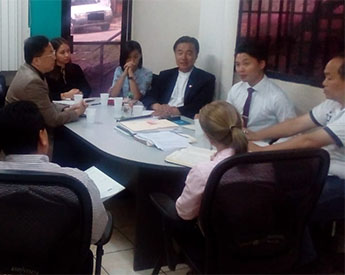 Taiwanese entrepreneurs meeting DIGEPESCA authorities. (Photo: Secretariat of Agriculture))
Taiwanese entrepreneurs consider investments in key Honduran species

HONDURAS
Tuesday, June 12, 2018, 23:40 (GMT + 9)
Lobster, sea cucumber, shrimp, finfish and jellyfish are the main marine species that Taiwanese entrepreneurs of the Dong Jyu Group Consortium have considered to invest in the country.
To this end they met with authorities of the Directorate General of Fisheries and Aquaculture (DIGEPESCA) of the Secretariat of Agriculture and Livestock (SAG) to exchange information on the coastal marine resources mentioned.
The president of the Consortium, Donald Lin, expressed that his desire is to support fishermen with equipment, such as boats, engines and equipment in general, and with the transfer of new technology.
At the same time, the Taiwanese entrepreneurs expressed their interest in the main commercial species of the country, with the idea of ​​generating jobs and foreign exchange through exports, within the framework of national laws.
DIGEPESCA deputy director Lorena Hernández thanked the support that the consortium is offering to the country and undertook to present a project proposal to be reviewed by the fishery management technicians in order to determine the main species having commercial interest as well as the fishing areas and main markets.
Last week, investors visited Puerto Cortés area, where they met with the Association of Artisanal Fishermen to exchange opinions on the interest in buying different fish species and in making purchase agreements. The fishermen undertook to submit a proposal to the consortium through the competent authorities.
Also, the Taiwanese delegation visited the coasting dock, where the loading and unloading of products could be observed.