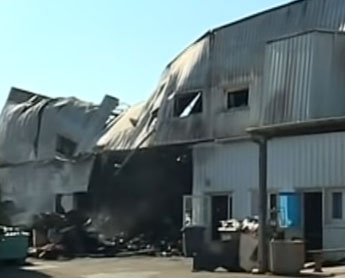 Smoked salmon plant of Marine Harvest Kritsen after the fire. (Photo: Stock File)
Fire destroys Marine Harvest Kritsen plant

FRANCE
Friday, July 13, 2018, 02:30 (GMT + 9)
A large fire destroyed the smoked salmon plant of Marine Harvest Kritsen, in Landivisiau, in the Brittany region. The firefighters have managed to control the fire after many hours of work, but it will take more days to extinguish it completely.

The fire broke out on Wednesday afternoon and spread rapidly, destroying almost all the facilities, including the 7,000 m² production section.

Twenty-two vehicles and 75 firefighters were deployed in the area and just at seven o'clock on Thursday morning the Finistère Departmental Fire and Rescue Centre reported that the main fire had been extinguished.

The fire started at approximately 3:00 pm on Wednesday in the southwest section of the building, for causes that are being investigated, and quickly spread to the eastern section.

A part of the building collapsed, but fortunately ammonia storage has been protected, said the fire department operations commander.

The 146 employees who were in the facilities were evacuated without problems, but two firemen experienced minor injuries.

The Kritsen plant was founded in 1994 and has been a subsidiary of the Norwegian giant Marine Harvest since 2006. It is a fish processing company known mainly for its smoked salmon, and is considered one of the gems of the economy in the north of Finistère. The company employs more than 300 people and hires around 200 temporary employees during peak periods.