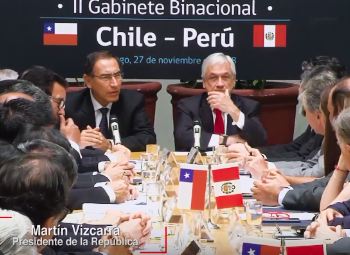 Chilean president Sebastian Piñera (R) with his Peruvian counterpart, Martín Vizcarra.
Chile-Peru binational cabinet tackled progress in fisheries and aquaculture agreements

CHILE
Thursday, December 06, 2018, 21:10 (GMT + 9)
In the framework of the II Chile-Peru Binational Cabinet, the progress of 163 commitments signed in 2017 between both States was announced. In terms of fisheries and aquaculture, there are four specific agreements that represent a 100 per cent advance in three of which the Undersecretariat of Fisheries and Aquaculture (SUBPESCA) appears as responsible entity.
The Binational Cabinet led by presidents Vizcarra (left) and Piñera met at Palacio de la Moneda, in Santiago de Chile. (Photo: Presidencia Perú)
One of the agreements has its focus on monitoring and implementing the work plan for cooperation activities and exchange of experiences, knowledge and technology related to hydrobiological species farming.
Meeting of the Chile-Peru Binational Cabinet at La Moneda Palace. (Photo: Presidencia Perú)
Another agreement, which involves the National Fisheries and Aquaculture Service (SERNAPESCA), is linked to reciprocal support in the fight against illegal fishing.
Fishing capture control by Agriculture and Livestock Sector Service (SAG). ►
The third one aims at the exchange of experiences in fishery management and research for sustainable development, based on an ecosystem approach.
Additionally, SERNAPESCA responds for a commitment linked to the "follow-up and implementation of the work plan for capacity building, and exchange of experiences on issues related to fisheries and aquaculture health and safety", it explained.
The Binational Cabinet, chaired by the presidents of Chile and Peru, Sebastián Piñera and Martín Vizcarra, was divided into five thematic axes: Social affairs and culture for integration; Security and defense; Foreign trade, investments, tourism and cooperation in science and technology; Environment, sustainable development and energy and mining issues; and Border development and integration and infrastructure issues.