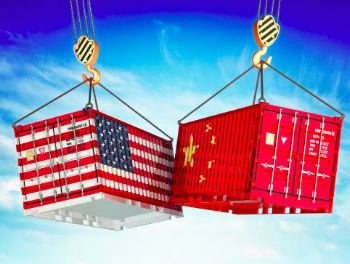 Some containers already begin to suffer problems upon arrival at port (photo: courtesy shipuwl.com)
China just slammed massive tariffs on $34 billion worth of US goods — here's what will get hit

UNITED STATES
Sunday, July 08, 2018, 07:00 (GMT + 9)
The trade war between the US and China officially launched on Friday, as both countries imposed tit-for-tat tariffs.
In response to US President Donald Trump's 25% tariff on $34 billion worth of Chinese goods, China's Ministry of Commerce announced tariffs of equal size on certain US exports to China.
It said the first $34 billion would be followed up by another $16 billion once the US's second tranche goes into effect in a few weeks.
While Trump's tariffs mostly target industrial and tech goods, China is focusing heavily on agricultural products from the US — a move that is likely to not only cause pain to Trump's political supporters, but leave US farmers with fewer options to divert their crops.
For instance, a US cherry producer told The Washington Post this week that a shipment to China was diverted for further inspection and went bad, resulting in a loss for the US firm. While it's unclear whether the delay was due to the trade fight, it highlights the danger for farmers caused by increased protectionism.
China last month released a preliminary list of goods that could face tariffs. While it's unclear whether the final list is the same, the speed with which China struck back suggests few changes were made.
Here's a rundown of the major US seafood products targeted by the tariffs:
Fish: various types of salmon, trout, catfish, carp, tilapia, halibut, plaice, sole, albacore, tuna, herring, cod, haddock, hake, pollock, dogfish, rays, skates, sea bass, fish roe. Also includes frozen fillets of those fish.
Other seafood: lobster, rock lobster, crab, shrimp, prawns, oysters, scallops, mussels, squid, cuttlefish, octopus, snails, clams, abalone, conchs, sea cucumbers, sea urchins, jellyfish, and various aquatic invertebrates. Also includes prepared or preserved preparations.