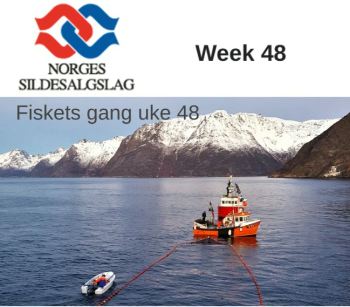 Photo : Kjartan Ervik/Svanaug Elise (2022) / / Norges Sildesalgslag
The Norwegian Pelagic Fishing Course in Week 48

NORWAY
Monday, December 05, 2022, 21:00 (GMT + 9)
More and more people are finishing this year's quotas, but there is still activity on the NVG herring in the north and along the coast of Vestland and Rogaland for the smaller fleet
NVG Herring

fishing in Kvænangen has gone smoothly and calmly this week with mostly one guide boat every day. A total of 1,628 tonnes have been locked up this week and there are now only a couple of boats that have a quota left. With the exception of some bad weather and wind that may come across the fjord tomorrow, we are betting that we will get the remaining quota this week.
The quota for ocean-going vessels is also starting to decrease, but there have been some vessels in activity just north of Arnøya and 6,873 tonnes of herring for consumption have been recorded.
In total this week, we thus end up with 8,578 tonnes of NVG herring in the journal.
North Sea herring
In addition to NVG herring, 710 tonnes of North Sea herring have been registered from the British zone this week where two Norwegian vessels have caught herring respectively southeast of Shetland and east of the Orkney Islands.
Three vessels have also locked up a total of 85 tonnes of North Sea herring from the fjord beyond Fitjar and in the Vindafjorden.
In the Vindafjord, there are also locked horse mackerel.
Sprat

There are 194 tonnes of coastal sprat recorded in the journal this week and the catches have been taken in both the Hardangerfjord, the Sognefjord and the Oslofjord.
A foreign boat has also delivered 670 tonnes of sea sprat caught east of Newcastle.
Kanten

From a vessel on Kanten, 207 tonnes of blue whiting and 20 tonnes of stream herring have been registered.
In addition, we have registered 180 tonnes of mackerel from a foreign vessel caught east of Shetland.
Author: Camilla Klævold / Norges Sildesalgslag (translated from original in norwegian)
editorial@seafood.media
www.seafood.media