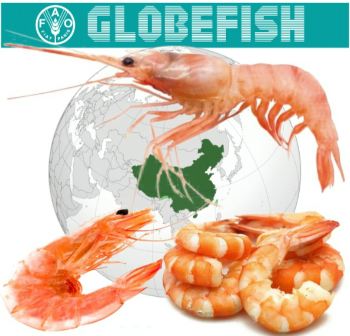 Image: Globefish/FAO
Between the months of January and September of 2022, the People's Republic of China was the largest importer of shrimp in the world

CHINA
Tuesday, December 06, 2022, 03:50 (GMT + 9)
Direct shrimp imports into China have increased significantly since lower tariffs were implemented.
Imports increased yearly from 54 700 tonnes and USD 307 million in 2012 to 720 442 tonnes and USD 4.46 billion in 2019. Annual imports fell to 613 100 tonnes and USD 3.45 billion at the start of the COVID-19 pandemic but recovered in 2021 to 658 000 tonnes and USD 4.04 billion.
This year, monthly imports were higher than in 2021 during January-June and increased further in July-September, setting a new high for cumulative shrimp imports during the first nine months of 2022. Imports increased by 51.6 percent in value to 661 822 tonnes and USD 4.42 billion (+71 percent) in comparison to the same period in 2021.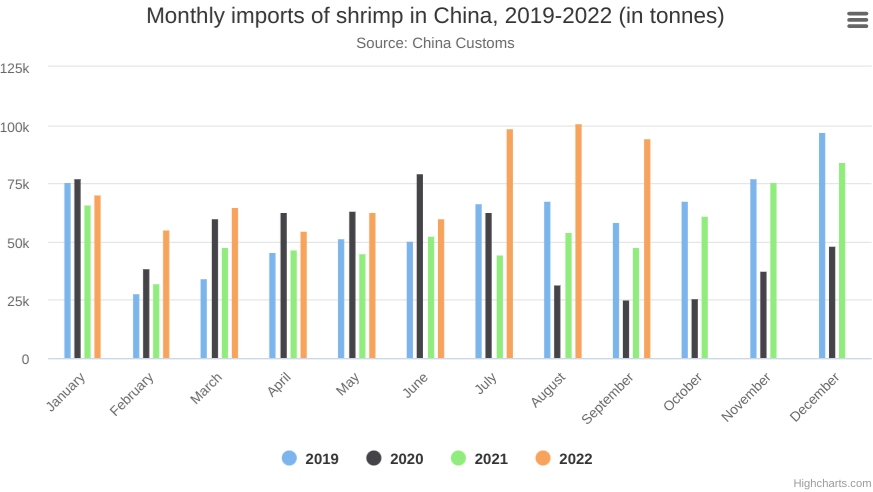 Click image to enlarge
Shrimp imports in China generally increase from September to December in preparation for the peak consumption seasons of October (National Day), December-January (Gregorian New Year), and February-March (Lunar New Year).
This year, however, Chinese buyers sought early procurement of supplies, indicating lower frozen shrimp stocks in the market. Shrimp imports reached a new high of 99 000 tonnes in July, 100 660 tonnes in August, and 95 000 tonnes in September. As a result, between January and September, cumulative imports increased by 59 percent from Ecuador, 21 percent from India, 123 percent from Vietnam, and 60 percent from Canada and other sources.
Source: Globefish/FAO
editorial@seafood.media
www.seafood.media