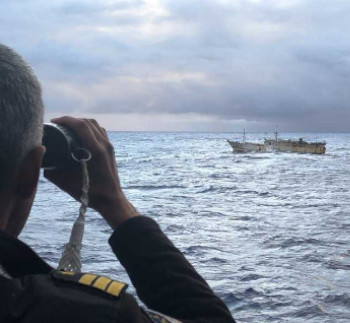 Photo: Armada de Chile
National action plan to prevent, discourage and eliminate illegal fishing in Chile

CHILE
Friday, February 03, 2023, 07:00 (GMT + 9)
Illegal, Unreported and Unregulated (IUU) fishing is the great scourge and threat that negatively alters marine ecosystems, affecting populations of species associated with fisheries and their ecosystems, impacting the social and economic development of fishing communities and threatening their livelihoods. livelihoods, aggravating poverty and increasing food insecurity.

Photo: Sernapesca
With the publication on the Sernapesca.cl website of the document containing the action plan, a new milestone in the progress of the IUU Fishing project was met, which is being worked on by: the Food and Agriculture Organization of the United Nations (FAO), the Undersecretary of Fisheries and Aquaculture, Subpesca and the National Service of Fisheries and Aquaculture, Sernapesca.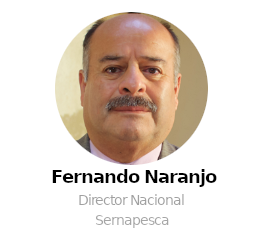 The publication of this document of actions for the effective fight against illegal fishing constitutes one of the achievements in the global project, called "Assistance for the strengthening of the national capacity of the Republic of Chile to prevent, discourage and eliminate illegal fishing Unreported and Unregulated (IUU)".
A review of national policies and the legislative framework for their strengthening was carried out, delivering a proposal for updating the Action Plan, highlighted Fernando Naranjo, National Director(s) of Sernapesca. "On this occasion, we incorporate proposals to improve the Monitoring, Control and Surveillance (MCS) Systems to efficiently and effectively combat illegal fishing, and a series of recommendations to improve the catch documentation system and traceability practices to combat illegal, unreported and unregulated fishing," said Naranjo.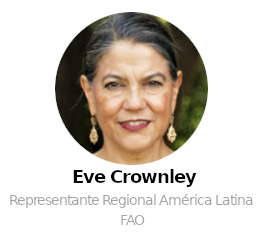 Meanwhile, from the FAO they indicated that this milestone reaffirms their commitment to continue supporting Chile in the implementation of strategies and measures, which can be used in order to strengthen their capacities to implement international responsibilities and achieve an effective fight against fishing. IUU.
"FAO welcomes the publication of the new National Action Plan of Chile. This significant result would not have been possible without close inter-institutional coordination between SUBPESCA, SERNAPESCA and IFOP and the collaboration with FAO for the generation of inputs and capacities within the framework of the IUU Fishing project. In this area, FAO will continue to closely support the State of Chile in the implementation of the Action Plan and new measures to comply with its international commitments on the matter", said the FAO Representative in Chile, Eve Crownley.
Source: Sernapesca
editorial@seafood.media
www.seafood.media