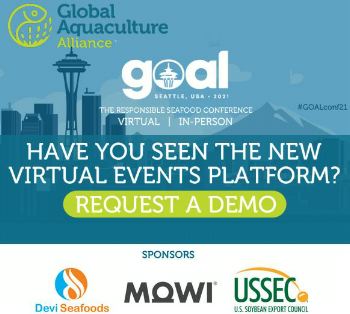 GOAL 2021 will be held in 2021 beginning Thursday, April 15 in Seattle, USA
GOAL 2021: Have You Seen the New Virtual Events Platform?

UNITED STATES
Tuesday, March 09, 2021, 02:00 (GMT + 9)
Don't wait for in-person events to return to market your products and services and meet with existing and potential customers.The Global Aquaculture Alliance's new custom-built GOAL 2021 virtual-events platform features company profiles, with the ability to share sales collateral; opportunities to place prerecorded speeches or presentations in a general session; and opportunities to host a breakout session.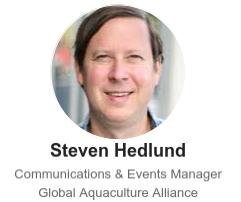 These features are available only to GOAL 2021 sponsors. Get a sneak peak at the virtual events platform and learn about what GOAL 2021 sponsorship has to offer by setting up a demo with GAA's Steven Hedlund.

In addition to the aforementioned features, the virtual-events sponsorship package includes more than 360,000 impressions through advertising and logo visibility throughout the year. Bolster your visibility in the aquaculture community and align yourself with seafood's thought leaders by sponsoring the GOAL 2021 conference.

Thank you to Devi Seafoods, Mowi and U.S. Soybean Export Council for being among the first to sponsor GOAL 2021. Next week, the program for the first virtual event on Thursday, April 15, will be released.
editorial@seafood.media
www.seafood.media