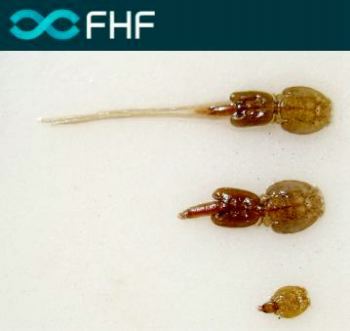 Is it possible to make Atlantic salmon resistant to salmon lice?

NORWAY
Friday, April 03, 2020, 05:50 (GMT + 9)
New lighthouse announcement from the Norwegian Seafood Research Fund (FHF)
In an open competition, the FHF now encourages both Norwegian and international environments with expertise in gene molecular tools and methods to apply research funding to see if it is possible to exploit the genetic traits of virtually salmon-resistant species of Pacific salmon to develop a lice-resistant salmon.
Known large resources are used to prevent and control lice in the Norwegian aquaculture industry. The industry is inventive in coming up with and testing new methods for both prevention and treatment, but lice are still a problem. Pacific salmon such as Coho and Pink salmon have genetic properties that enable them to get rid of salmon lice completely, including by encapsulating the lice so that it dies. We know a lot about the genetic mechanisms that give Pacific salmon these benefits. Both the salmon and salmon lice genome are sequenced and progress has been made in mapping properties related to the genomes. Yet more knowledge is needed. Therefore, as a strategic investment, FHF has now announced up to NOK 40 million for the purpose of studying this further and finding out what is possible. FHF encourages Norwegian and international environment, preferably in cooperation,
Each year, the FHF establishes a strategic initiative in a field that requires extra R&D efforts. The main goal of this year's initiative is to clarify whether it is possible or not to develop a "lice resistant" Atlantic farmed salmon. The initiative also aims to provide knowledge on how salmon lice will be able to adapt to such "lice resistant" salmon. The effort is limited to possible solutions based on genetic methods. One such method may be to utilize the CRISPR / Cas system that is naturally occurring in salmon. This is part of the immune system used in the defense against foreign genetic elements.
- Using this tool to study lice resistance is one of several new genetic opportunities to find out if the properties found in some Pacific salmon species also exist and can be more strongly expressed in Atlantic salmon, says Kjell Maroni, FHF.
It is also important to understand the molecular mechanisms between host and parasite - so the FHF's call for proposals is coordinated with the call for " Fish health and fish welfare - Salmon and scotch " in the Research Council of Norway (see under HAV theme) with the aim of developing and utilizing knowledge about molecular mechanisms for the lice / host interaction. It is not fully known how the parasite recognizes the salmon and why the salmon can be recognized and exploited.
- Understanding this relationship between host and parasite could mean a lot in the fight against salmon lice, says Kjell Naas in the Research Council.
The announcement to the Research Council also includes projects that utilize the salmon's genetic variation for selection for lice resistance. Here it may also be interesting to include bulkheads that are generalist in their host selection, both because bulkheads are an increasing problem in themselves and because knowledge of the mechanisms that differ between the species of lice can contribute to understanding the host specificity of salmonids.
This announcement represents one of several areas FHF has prioritized research efforts in the fight against lice
Author: