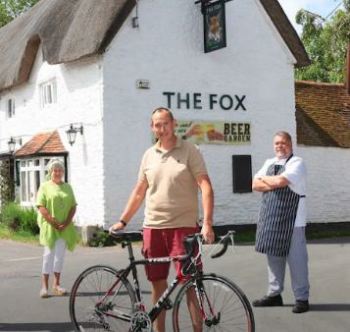 The Fox pub chef and residents of Denchworth in Oxfordshire (CREDIT: John Lawrence)
'Secret millionaire' who buys whole village weekly fish-and-chip suppers during lockdown offers to pay locals £100 to lose weight

UNITED KINGDOM
Monday, May 25, 2020, 14:30 (GMT + 9)
Anonymous benefactor has paid for weekly meals in Denchworth, Oxfordshire

Fish and chips have been made and delivered by local 17th Century pub, The Fox

Now secret Samaritan wants to launch a health kick in his village with incentive

He is offering residents £100 to anyone who loses 10 per cent of body weight

Motivated by statistics that show obesity plays role in overcoming coronavirus
A mystery good Samaritan who paid for 171 villagers to enjoy fish and chips every Friday over three months of lockdown, has now launched a very different initiative to help them lose weight.
The anonymous benefactor has been footing the bill for every villager in Denchworth, Oxfordshire, to enjoy fish and chips - normally £5 per head - cooked up by his local pub, The Fox, in Hyde Road, since March.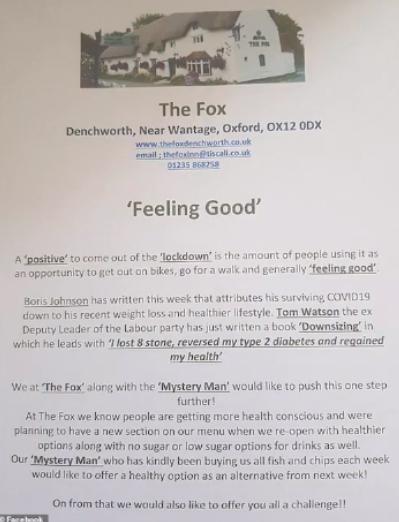 Not only have the residents enjoyed the free meal once a week, but it has also helped keep afloat the local 17th century pub, run by landlord Stephen Davidson, which like other establishments across the country was forced to close and now only offers takeaways and deliveries to the public.
In an effort to help his local area further, the 'mystery man' - described as a 'very wealthy in-betweener' who splits his time between London and Denchworth - now wants to offer residents the incentive of £100 to anyone who loses 10 per cent of their body weight over the next two months.
Author: Share Miller / MailonLine