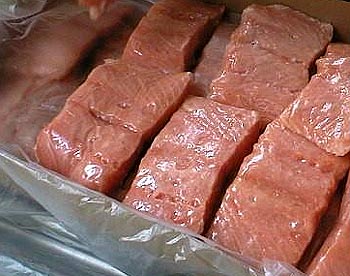 Norwegian salmon for export. (Photo: Stock File)
Salmon export value grow in May thanks to strong demand and record prices

NORWAY
Thursday, June 14, 2018, 22:50 (GMT + 9)
Norwegian exported seafood volumes declined by 11 per cent in May compared to the same month in 2017 but the value of these sales abroad grew by NOK 821 million (USD 102.2 million).
From January to May this year, Norway exported 1.2 million tonnes of seafood worth a value of NOK 40 billion (USD 4,981 million), representing a growth in volume by 12 per cent and in value by 4 per cent, the Norwegian Seafood Council reported.
Salmon exports reached 81,000 tonnes worth a total of NOK 6.1 billion in May, representing a 12 per cent increase in volume and 16 per cent in value compared to the same month last year. In the period up to May, 400,000 tonnes of salmon were exported for a total value of NOK 27 billion.
"With an average price of NOK 73.73 per kg of fresh whole salmon, we are seeing the highest monthly average price for salmon during May. The reasons for these high prices are a combination of strong demand and a still weak Norwegian kroner in relation to the euro. Export values for Norwegian salmon to the EU have never been higher in a single month. The export value for salmon to the EU in May ended at NOK 4.6 billion", pointed out Asbjørn Warvik Rørtveit with the Norwegian Seafood Council.
Poland, France and Denmark were the largest export markets for Norwegian salmon in May. The United States also saw a strong rise in export value, which was 24 per cent compared to May last year. This represents the best May-month for export of Norwegian seafood to the United States ever.
"Americans are consuming Norwegian salmon like never before, and I think it's because Norway's seafood is known to be free of antibiotics and farmed using sustainable practices. Growth in the United States shows the importance of the authorities and industry working together to ensure good market access. But we cannot rest on our laurels, ensuring good trading conditions will also continue to be crucial for achieving growth in the future," stressed Per Sandberg, Minister of Fisheries.
In the case of Norwegian trout, 4,300 tonnes were exported with a value of NOK 316 million in May. This represents an increase in volume of 54 per cent and in value by 38 per cent, compared with May 2017.
A total of 18,000 tonnes of trout was exported in the first five months of the year with a value of NOK 1.2 billion. The US and Belarus were the largest export markets for resource in May.
(NOK 1 = USD 0.12453)