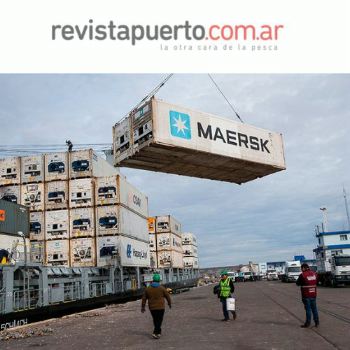 Mar del Plata port (Photo: Puerto Magazine)
Exports with a slight drop in May

ARGENTINA
Tuesday, June 28, 2022, 10:30 (GMT + 9)
According to data provided by CAPECA, foreign sales registered a 1.6% decline compared to the same period in 2021. In the first 5 months of 2022 there were sales of 674 million dollars. The biggest fall occurred in shrimp and black hake rebounded due to the effect of the international context.
According to the report prepared by the Chamber of Freezers based on INDEC data, total exports as of May 31 have been 174,557 tons for 674 million dollars, registering a drop of 1.6% compared to the same period in 2021. The data reveals that in the year-on-year comparison, sales of whole shrimp decreased by 18.2%, while sales of shrimp tails fell by 10.1%; these drops are the ones that have had an impact on the general balance of exports. It is that in other products the value exported has increased: in the case of hake fillet the rise was 6.0% and squid registered a slight increase of 0.8%. Patagonian toothfish registered an increase of 137.2% mainly influenced by the doubling of its price, the report indicates. On the other hand, it is indicated that the hake filet; shrimp and squid improved their prices.
Of hake fillets, in total, 23 thousand tons have been exported for 62.5 million dollars, which implies a 10% drop in volume but a 6% rise in foreign exchange earnings, due to the increase in the average price in 18% compared to the same period in 2021.
In the analysis by species and country of destination, it can be seen that Brazil continues to be the main buyer of hake fillet, although its share has been falling: in this period, exports fell by 30% in volume, but only 3.3 % in foreign currency thanks to a price increase of 24%, reaching 3,385 dollars per ton. Spain is the second country of destination, with a stable demand of 3,300 tons, this year it had an 11% rise in price, remaining at 2,900 dollars per ton. Below are the United States and Poland among the main markets.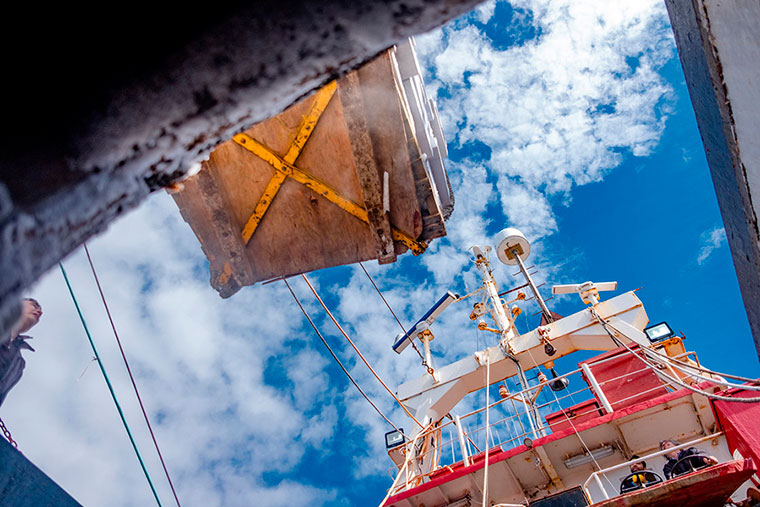 Revista Puerto
In the case of H&G frozen hake, the main destination is Russia and sales have fallen by 61%, registering export volumes similar to those of Israel, which ranks second as an export destination; the sale price was similar in both countries at a rate of 1,580 dollars per ton. In total, 14 thousand tons of this product were exported for almost 17 million dollars, which implies a drop of 20% in volume and 18% in dollars. The average price improved by 1.7%, standing at 1,496 dollars per ton.
The shrimp does not show a good start. Sales, compared to the same period in 2021 for the entire product, have dropped 18% in foreign currency and 21.5% in volume; the difference is given by an increase in the average price of 4%, which stood at 6,489 dollars per ton. Spain, the main country of destination, decreased demand by 20%; Russia went from second to seventh place with a drop of 84% and demand from Italy fell by 42%. Japan remained stable and an increase in demand from France is observed. China appeared on the list again, but with reduced volumes that do not reach one thousand tons. In total, 15 thousand tons have been sold, which implies an income of 97 million dollars for the country.
The average price at which shrimp tails were sold was 7,898 dollars per ton, and as of May 31, 20,864 tons had been sold, which implies a drop of 19.4% compared to last year. The sale value fell 10%, given that the rise in price contributed by 11.4%. This product consolidates its reprocessing destination in Peru, which has occupied the first place, with growth in demand of 20% in volume and 38% in foreign currency thanks to an increase in price. Spain, which had been occupying the first place in the list of markets, reduced the volume of demand by 15.6%; China 14% and Thailand collapsed with a drop of 55%. In contrast, the United States increased demand by 35% with the highest price in the market, at a rate of 10,135 dollars per ton.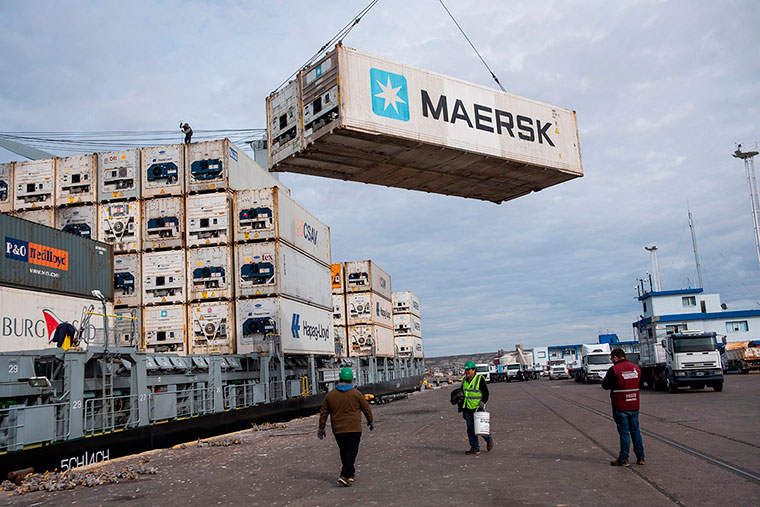 Revista Puerto
The situation for illex squid shows a slight increase compared to the same period last year, with an increase of 2.5% in volume and 0.8% in value thanks to the average price rise of 3.3%, which was stood at 2,113 dollars per ton. In total, 89,688 tons have been sold for 189 million dollars. South Korea, despite having reduced its demand by 16.5%, remains the first country of destination, followed by China, which also reduced demand in the same proportion. Thailand and Singapore are the markets that continue in importance and with a considerable increase in demand; In contrast, Spain has been in fifth place and with a drop in demand of 36% but paying a price almost 50% higher than South Korea per ton.
Probably due to internal conflicts that put at risk the entry of the Patagonian toothfish caught in the Georgian Islands to the United States market, the price of this product with an Argentine label has almost doubled its value. It went from 14 thousand to 27 thousand dollars a ton. The main market is the United States, which has purchased 922 tons of the 1,293 sold in total; this year the US market increased demand by 244% and although the price for this market increased by 99.8%, remaining at 26,260 dollars per ton, it is still the lowest in the market.
These are the data that CAPECA has provided regarding exports of the main products in the month of May. It is the only updated information because the Situation reports of the Undersecretary of Fisheries for the same month have not yet been published.
Source: Revista Puerto
Edited by Malena Nahum
editorial@seafood.media
www.seafood.media