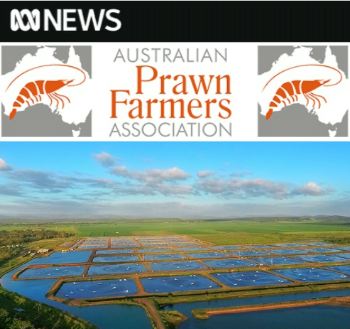 The Australian Prawn Farmers Association (APFA) is the peak representative organisation for the Australian farmed prawn industry.
Prawn farmers fired up over white spot disease after biosecurity review fails to deliver raw prawn import bans

AUSTRALIA
Friday, June 09, 2023, 07:00 (GMT + 9)
The following is an excerpt from an article published by ABC Rural:
The federal government is under fire, accused of failing Australian prawn farmers who warn it is a matter of "not if but when" more devastating crustacean diseases enter the country, potentially spreading to lobsters.
Seven years after it was initiated, the federal Department of Agriculture, Fisheries and Forestry (DAFF) released the long-awaited final report to review the biosecurity risks of imported prawns and prawn products.
Australian Prawn Farm Association executive officer Kim Hooper said the industry's greatest fears had been realised.
Unlike biosecurity measures for most imported beef, chicken and pork, imported prawns will still be able to enter the country uncooked — and will not be tested for several serious emerging diseases.
"It just feels like we're being thrown under a bus. It's incredible," Ms Hooper said.
"Trade shouldn't trump biosecurity.
"We're not against imports; you could still import, but it's the same as with chicken, beef, and pork. You actually just need to either cook it or enforce higher standards for testing."
The DAFF report recommended changes, including requiring all imported prawns and prawn products to be frozen.
White spot is thought to have entered Australian waters through imported prawns used as bait.(Supplied: Ben Diggles/DigsFish Services)
Whole uncooked prawns would only be allowed in if countries or zones were officially assessed as being free from 10 serious pathogenic threats to Australia, including the highly infectious white spot virus (WSSV), which sparked the biosecurity review.
WSSV poses no threat to human health and safety but has devastated prawn farms on the Logan River since it entered the country in 2016, costing more than 100 million dollars.
In 2017, Australia's Inspector-General of Biosecurity, Helen Scott-Orr, said the source of infection was suspected to be imported uncooked prawns used as bait by fishers in the Logan River.
A different genetic variant of WSSV has since forced three prawn farms in New South Wales Clarence Estuary to euthanise their stock.
Matt Landos says de-veining does not remove all potentially disease-infected faeces from imported frozen raw prawns.(Supplied: Dr Matt Landos)
The import review found head and shell removal, de-veining, pre-export and on-arrival testing for white spot syndrome virus and yellow head virus genotype 1 were still considered necessary to manage the biosecurity risks of uncooked prawns.
"Breaded, battered, and crumbed prawns must still have undergone a par-cooking step, and highly processed prawn must still be imported as part of a product such as a dumpling or spring roll," the report read.
Scientific concerns
"Sadly, we have played this game before and lost," warned aquatic veterinarian Matt Landos.
"It was never safe to bring uncooked prawns into Australia due to the pathogens that they carry and the fact that we have no control of the release of those products into the environment by their use as bait or burley by recreational anglers."
The import review requires all imported prawns to be frozen.(ABC Rural: Kim Honan)
"This is a grave disappointment that the Commonwealth is continuing to choose to sacrifice the seafood industries of Australia for trade issues rather than follow the science and protect our seafood industries from the importation of further diseases."
"Certainly, I know that the beef industry would not stand for this level of risk, this level of laxity in the system that might allow a serious virus into their industry," Dr Landos said.
"And in the case of aquatic viruses and pathogens, we know that we have little hope of actually eradicating them once they're here, they get out into the environment, and we have no ability to control where they go."
In 2020-21 $422 million of prawns were imported into Australia.
Dead farmed prawns in the sediment of the pond at a south east Queensland farm in April 2020, which had died of white spot disease.(Supplied: Dr Ben Diggles DigsFish Services)
Of the 38,000 tonnes of prawns and prawn products that came into the country last financial year, the largest volumes were from Vietnam, Thailand and China, where farmers are battling disease.
The DAFF report said prawn imports helped meet domestic demand and offered a range of benefits such as competitive pricing, a greater variety of products and product availability during seasonal shortfalls.
"If Australia decided to ban food imports from other countries without scientific proof, not only would we deny Australian consumers the right to choose, but other countries would have the right to ban Australian exports," the statement read.
"This would have serious consequences for our farmers and producers, the broader economy and all Australians." [continua...]
Author/Source: Jennifer Nichols / ABC Rural | Read the full article by clicking the link here
Related news: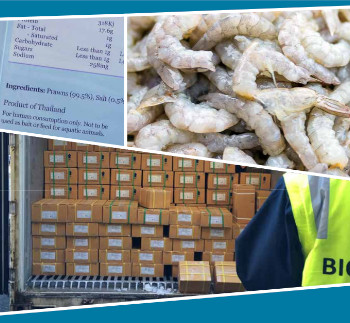 editorial@seafood.media
www.seafood.media