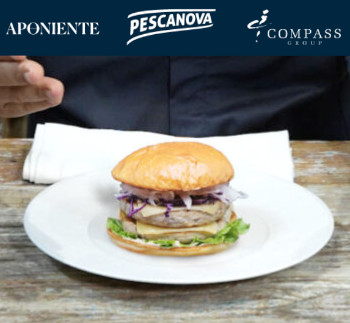 Image: Grupo Nueva Pescanova / FIS
Grupo Nueva Pescanova, Ángel León and Compass Group launch a fish burger that values 100% of the fish

SPAIN
Friday, June 09, 2023, 07:00 (GMT + 9)
The Pezconocidos project contributes to the use of fishing catches, since it uses species that are hardly consumed today

With this product, 20 tons of fish have been used, but it is only the first of those that will be presented within the framework of this joint collaboration.

This Thursday it will be possible to taste it in the more than 200 dining rooms in which Compass Group operates. In addition, the initiative is made known through an outdoor campaign in Madrid, Barcelona and Vigo
Ángel León, the Nueva Pescanova Group and Compass Group present the first product resulting from the Pezconocidos project: a hamburger made with species of fish that are rarely consumed today. Pezconocidos is a gastronomic sustainability and innovation initiative with which the three members of the project seek to use 100% of the fishing catch. This product can be tasted in the more than 200 business centers and health cafeterias managed by Compass Group nationwide and where more than 70,000 people eat daily.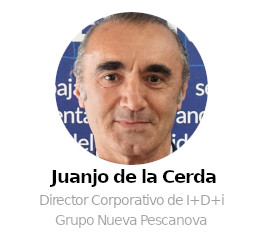 The fish that have been used are redfish, oceanic redfish, starling and mackerel. Despite their high nutritional value, in some cases they are not widely marketed and, therefore, are not accessible to the general public. To value this project, Chef del Mar, Ángel León, has designed different proposals for recipes with the Michelin Star seal. The first one is inspired by Cádiz and consists of a grilled fish burger, marinated mayonnaise, pickled salicornia and payoyo cheese on a tasty brioche bun.
With this first action, 20 tons of fish have been used, but this hamburger is only the first of the products that the Nueva Pescanova Group, Ángel León and Compass Group will launch within the framework of the Pezconocidos project. In this sense, and in line with the objectives of the alliance, new gastronomic innovation proposals will be presented in the short term that include other fish species such as alfonsiño, Cape horse mackerel, silver scabbardfish, pomfret, American sierra or grenadiers.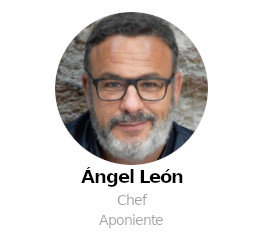 Juanjo de la Cerda, corporate director of R+D+i of the Nueva Pescanova Group, affirms that
"the resources of the sea are limited, so it is vital to find solutions that allow us to make the most of all the fishing catches. The result could not be better: a product that not only contributes to the sustainability of the oceans, but is also rich, healthy and nutritious".
In this regard, chef Ángel León points out that "we only know 40% of the marine pantry and we are so selective and capricious that we only demand a series of species. The resources of the sea are many, but we are limiting them more and more. We must have a more open mind and appreciate marine diversity as a method of conserving our seas. In this context, it is necessary to find formulas to obtain the maximum performance of the protein from the sea".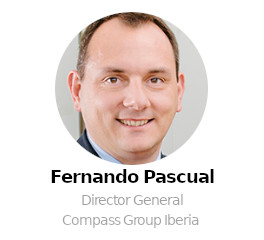 For his part, Fernando Pascual, General Manager of Compass Group Iberia, points out that "our main concern is to feed well and we do so taking into account the importance of a varied, healthy and sustainable diet. For this, it is essential to respect our commitment to the sea, valuing its biodiversity and promoting its protection. Our objective with Pezconocidos is to involve our diners by transmitting the benefits of consciously choosing these recipes, made with marine species that are not so highly valued and that have a great flavor".
Bringing Pezconocidos closer to the general public
Pezconocidos has reached the streets of some Spanish cities such as Madrid, Barcelona or Vigo through a campaign with which Pescanova wants to publicize the objectives of this initiative: to contribute to making our seas and oceans more sustainable. This happens by taking advantage of 100% of the fishing catch, valuing all fish species and, for this, it is necessary to make them known. Under this premise, and through digital billboards, billboards or buses, the brand "presents" these lesser-known fish, which play a fundamental role in guaranteeing the health of the oceans, and invites citizens to learn more about Pezconocidos. Among the emblematic places where it can be viewed are Madrid's Plaza de Callao and Plaza Catalunya, in Barcelona.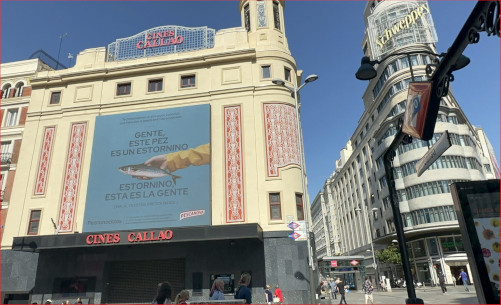 Photo: Grupo Nueva Pescanova
Source: Grupo Nueva Pescanova