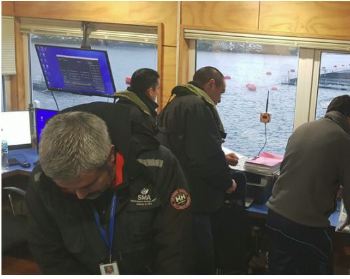 SMA inspectors controlling documentation, electronic files and equipment in one of the Nova Austral farms
Nova Austral must send analytical results to SMA related to adulteration of sea beds in farming center

CHILE
Thursday, July 18, 2019, 17:00 (GMT + 9)
The action is mainly sustained after a complaint filed by SERNAPESCA, a sector organization that confirmed that the company adulterated the sea floor in one of its cultivation centers.
The Superintendent of the Environment (SMA) ordered Provisional Measures against the Salmon Farming Center (CES) "Aracena 14", operated by Nova Austral SA, currently without fish, and regulated by the RCA N ° 151 / 2003, corresponding to the project called "Center for salmonid culture, Estero Staples"; and by RCA N ° 079/2010, corresponding to the project "Farmng Center Aracena 8, unnamed Cannal, sin nombre, north of Caleta Sholl". Both projects are located on Capitan Aracena Island, Magallanes Region and Chilean Antarctic, specifically within the Alberto De Agostini National Park.

With an area of ​​1,460,000 hectares, Alberto De Agostini National Park is the third largest protected area in Chile. It is located 80 nautical miles southwest of Punta Arenas, on land formerly belonging to the forest reserve and national park Netherlands Ferdinand Magellan.(Photo: Wikipedia)
The Provisional Measure is based mainly on the complaint filed by SERNAPESCA, a sector organization that confirmed that the company committed adulteration of the sea floor in one of its farming centers. After analyzing the merit of the complaint, the following pre-procedural provisional measures were ordered:
Monitoring of sediment characterization, without fish in the cages, considering at least the following parameters: granulometry, total organic matter and benthic macrofauna, pH and redox potential. The above, both in the sedimentation area of ​​the center (4 samples, each with its respective replica), and outside it (2 samples, each with a replica) including underwater filming, which must be done by a Technical Entity of Environmental Inspection (ETFA) authorized by the SMA.
Give notice to the SMA, at least 48 hours in advance, regarding the date of the detailed sediment monitoring.
The term of these measures is 10 business days from the date of notification.

Last week SERNAPESCA National Director, Alicia Gallardo filed complaints in the National Prosecutor's Office and the Environment Superintendency against the salmon company Nova Austral to investigate the configuration of possible crimes and determine a possible environmental damage to the seabed in one of the company's centers.(Photo: Sernapesca)
The Norwegian capital company will have a period of 10 working days from the notification to deliver the results of the analysis before the SMA.
The salmon company has been harshly questioned in recent weeks by the government, after it was revealed that they manipulated the fish mortality figures in their report for the last production cycle apparently to avoid fines.
In this context, the general manager of the company, Nicos Nicolaides, left his position assumed in December 2014.