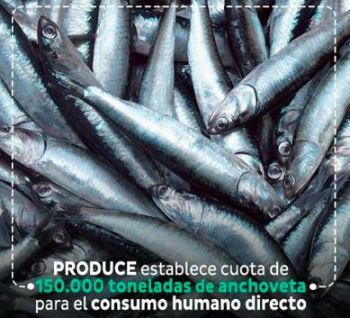 The ministry will conclude extractive activities when it reaches or estimates to reach the quota established for the entire Peruvian coastline
Anchovy quota for direct human consumption set at 150,000 tonnes

PERU
Friday, July 19, 2019, 21:30 (GMT + 9)
The Ministry of Production (PRODUCE) has set the maximum catch limit of anchovy (Engraulis ringens) for direct human consumption (DHC) corresponding to 2019 at 150,000 tonnes.

This quota may be modified when the Institute of the Peruvian Sea (IMARPE) recommends it due to environmental or biological circumstances.




According to Ministerial Resolution 313-2019-PRODUCE, published today in El Peruano, the ministry will conclude extractive activities when it the quota established for the entire Peruvian coastline is reached or estimated to be completed.

The norm also indicates that industrial plants with licenses should only receive volumes of anchovy for the production of canned, frozen, raw and other products, destined for CHD.

Likewise, it specifies that the General Directorate of Supervision, Supervision and Sanction of the Vice Ministry of Fisheries and Aquaculture must adopt the necessary measures to protect compliance with the provisions of this RM and that its non-compliance will be sanctioned according to the General Fisheries Law and other legal provisions in force.