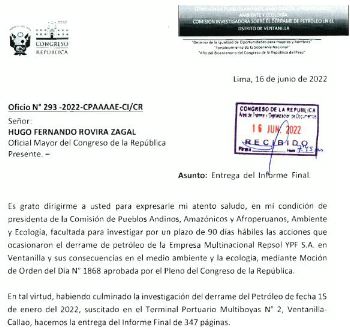 Explosive document containing the conclusions and recommendations presented by the Congress Commission for the Repsol spill
La Pampilla, crime and punishment

PERU
Saturday, July 02, 2022, 17:00 (GMT + 9)
In our always convulsed country, the issue of the oil spill produced by the La Pampilla Refinery of the Repsol Group, on January 15, was forgotten news, until a revelation shook us reminding us that an environmental tragedy hit us and that there are obvious causes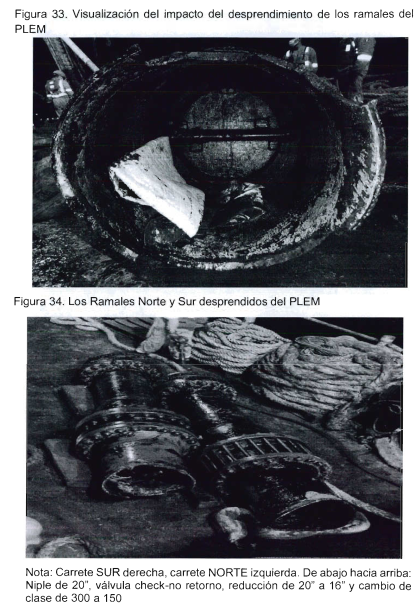 An investigative commission of Congress, made up of 14 parliamentarians from 9 different benches, approved a 347-page report that concludes that it is the "Worst ecological disaster on the Peruvian coast", and a crime against humanity whose main responsibility falls on La Pampilla Refinery S.A.A., extending to the Repsol Economic Group.

According to the commissioners, the effects of the spill could take tens of years to be reversed. They affirm that the Repsol Group would have committed crimes classified in articles 304 and 314 of the Penal Code (environmental pollution and responsibility for false information), as well as infractions against various environmental regulations.

They refer to the presence of pipelines that are 47 years old without maintenance, non-existence of valves to control the flow of fuel, lack of a ship to deal with emergencies, absent ship mooring supervisor, difference between the volume of crude oil reported to Sunat and that they were actually receiving and charging at excessive, dangerous and unauthorized speed, among other irregularities.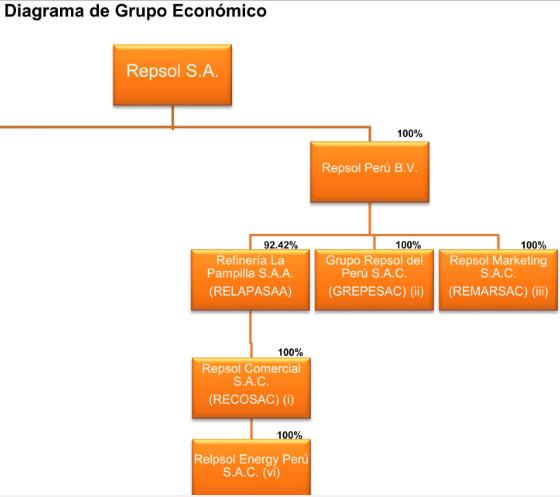 Note: Repsol Peru BV (The Netherlands) currently owns 99.70% of Refineria La Pampilla S.A.A.

The congressmen also point out that an economic assessment of the damage caused is made by INDECOPI by suing for 4,500 million dollars "Although it will not be able to put a price on the invaluable nature of the marine life destroyed."

The document indicates that the Executive assumed the representation of the population "And reached agreements in this regard with Repsol." The company manages a list of approximately 5,500 victims, but according to the government it would exceed 700,000, as stated by the British newspaper The Guardian.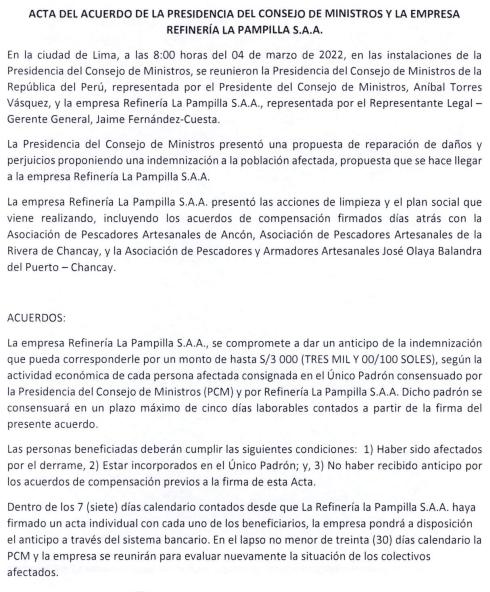 Under this irregular agreement, the oil company has granted, until April, bonuses of 500 soles (125 dollars) and an indemnity payment of 3,000 soles (810 dollars) to some hundreds of families. These unilateral "advances" by Repsol will only be delivered against what the court determines to pay the victims, not only for having affected them financially, but also for negligence, such as personal compensation and other damages.

Artisanal fishermen and aquaculturists seek legal support outside the country in pursuit of justice that they do not see clearly in Peru. The corporation responsible for this disaster has its headquarters abroad and that is where the victims and international specialists in legal claims of this type point. For his part, Manuel Pulgar Vidal of WWF recognizes that the "Culture of impunity" and the lack of effective regulation are enormously detrimental in one of the most biodiverse nations in the world.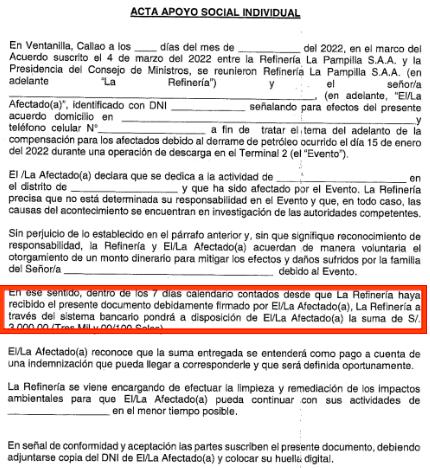 While there is no confidence in the Peruvian authorities, there are known examples of compensation for hydrocarbon leaks in other latitudes such as the Gulf of Mexico in 2010, which involved payments of 11.2 billion dollars; the coal ash incident at the Kingston Fossil plant (Tennessee) in 2008, which generated compensation of 27.8 billion dollars; the Exxon Valdez disaster in Alaska and its 1.5 billion dollars in repairs and others. The Lieff Cabraser Heimann & Bernstein law firm represents the victims who claim multimillion-dollar compensation for an oil spill in Huntington Beach, California in October 2021, despite the fact that there was an action to remedy it that began on the first day, unlike the Peruvian case that in his first week he only used brooms and dustpans.

Fortunately, we are in 2022 and these crimes do have punishment.

Author/Source: Alfonso Miranda Eyzaguirre / Express
editorial@seafood.media
www.seafood.media