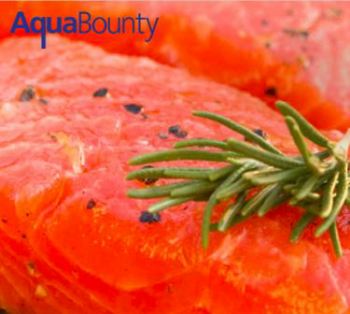 The company also announced that it has commenced a proposed underwritten public offering of common stock
AquaBounty Technologies Announces Financial Results for the Quarter and Six Months Ended June 30, 2020, and Provides Corporate Update

UNITED STATES
Friday, August 07, 2020, 15:00 (GMT + 9)
MAYNARD, Mass., (GLOBE NEWSWIRE) -- AquaBounty Technologies, Inc. (NASDAQ: AQB) ("AquaBounty" or the "Company"), a land-based aquaculture company utilizing technology to enhance productivity and sustainability, has provided a corporate update and financial results for the second quarter and six months ended June 30, 2020.
Key Second Quarter 2020 & Subsequent Company Highlights:
   Completed the first harvest of conventional Atlantic salmon in June at the Company's Indiana farm, validating its land-based Recirculating Aquaculture System (RAS) as an efficient and sustainable way to raise Atlantic salmon.  The Indiana-based farm expects to ramp up monthly harvest of conventional salmon throughout the summer and plans to reach 100 metric tons per month by early 2021.
  Closed a $4.0 million loan with First Farmers Bank & Trust to fund capital improvements and automation equipment at the Indiana farm.
   Selected Site Selection Group to identify the most advantageous site for the Company's planned 10,000 metric ton farm and CRB USA to design the facility.
 Engaged international investor relations specialists MZ Group to expand its strategic investor relations and financial communications program across key markets.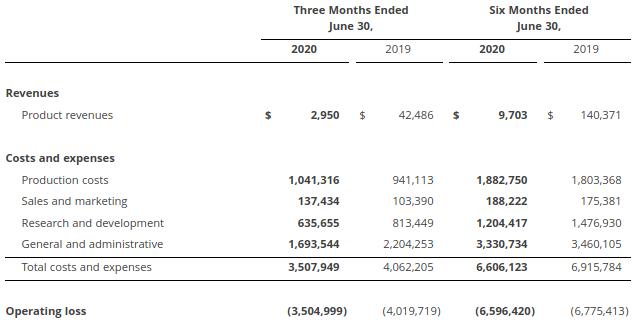 Click image to enlarge
Management Commentary
Sylvia Wulf, Chief Executive Officer of AquaBounty, stated: "The highlight of the second quarter was the announcement of our first harvest of conventional Atlantic salmon at our Indiana farm, an important milestone as we refine harvest systems and processes ahead of our expected initial harvest of AquAdvantage salmon in the fourth quarter this year in Indiana, followed by the anticipated first harvest of AquAdvantage salmon at our Canada-based, Prince Edward Island Farm in the first quarter of 2021.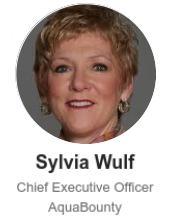 "The first harvest of conventional salmon represents the start of the commercialization phase for AquAdvantage salmon (AAS), a milestone over 30 years in the making.  This will be a breakthrough moment not only for AquaBounty, but for the industry—as it will be the first sale of a genetically engineered animal protein in the U.S.  We completed proprietary consumer research in Q4 of 2019, and the insights have been used to build out our communications program that we began executing in conjunction with our first harvest and anticipate will support the commercial launch of AAS later this year.  Furthermore, we continue to receive inbound interest from potential offtake partners, who see the inherent value in AAS, from both a sustainability and economic perspective, and we anticipate finalizing commercial agreements with key potential customers and distributors in advance of the first AAS harvest.
"After engaging Site Selection Group and CRB USA, we have made significant progress on finalizing the potential site and design for our planned 10,000 metric ton farm and will soon select the farm's RAS technology provider.  We are on schedule to select the farm's location this quarter and expect to begin construction in early 2021.  We believe we are now positioned to seize emerging growth opportunities within the space.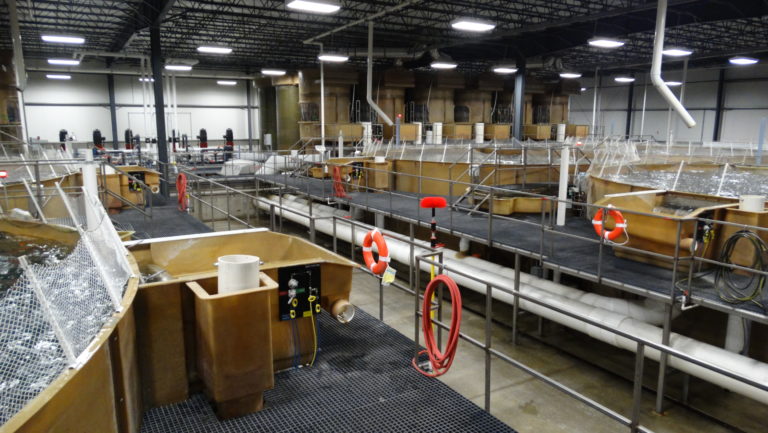 AquaBounty Indiana facility (Photo: AquaBounty)
"While we plan to construct our own facilities at first to validate our business model to the world, our long-term, capital-light goal is to make AAS the clear choice for existing land-based RAS farm operators who wish to remain competitive in the marketplace.  I eagerly look forward to what the future holds for AquaBounty," concluded Wulf.
Financial Summary through June 30, 2020
    Cash and cash equivalents were $10.0 million as of June 30, 2020 ($2.8 million at December 31, 2019).  In February, the Company completed a public offering of common shares that provided $14.5 million in net proceeds.
    Cash used in operations for the six months ended June 30, 2020, was $7.0 million, compared with $5.2 million in the same period of the prior year.  Growth of fish inventory biomass was the driver.
    Cash used for capital projects for the six months ended June 30, 2020, was $1.6 million compared with $0.9 million in the same period of the prior year.  The funds were primarily used for equipment upgrades at the Indiana farm.
    Net loss for the six months ended June 30, 2020, was $6.6 million, or $0.22 per share, compared to a net loss of $6.8 million, or $0.37 per share, in the same period of the prior year.

Click image to enlarge
Proposed Public Offering of Common Stock
AquaBounty Technologies, Inc.  announced that it has commenced a proposed underwritten public offering of common stock of the Company. In addition, the Company expects to grant the underwriters of the offering a 30-day option to purchase additional shares of common stock at the public offering price, less underwriting discounts and commissions. The offering is subject to market and other conditions, and there can be no assurance as to whether or when the offering may be completed, or as to the actual size or terms of the offering.
Oppenheimer & Co. Inc. and Lake Street Capital Markets, LLC are acting as joint book-running managers for this offering. National Securities Corporation, a wholly owned subsidiary of National Holdings Corporation (NASDAQ: NHLD), is acting as co-manager for the offering. The Company currently intends to use the net proceeds of this offering for working capital costs and general corporate purposes, including potentially purchasing land and towards costs associated with the construction or site development for a new production farm.