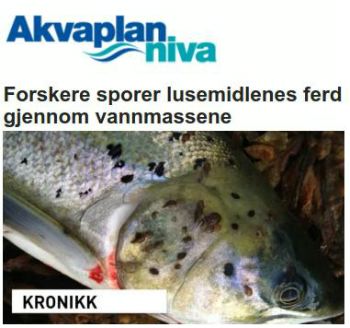 Photo: Sondre Kvalsvik Stenberg / NIVA
Researchers are tracking the passage of lice repellents through the bodies of water

NORWAY
Tuesday, September 29, 2020, 05:00 (GMT + 9)
Some of the questions that are most interesting for marine management, fishermen and most people, are how lice repellents spread in the sea after a lice infestation and how long they remain in the environment.
Some of the chemicals used to fight salmon lice have been shown to have unwanted effects on marine life. The benefit of removing salmon lice must therefore be carefully weighed against negative effects on the marine environment.
One of the things we work with at the Norwegian Institute for Water Research (NIVA) and Akvaplan-niva is to find out how salmon lice chemicals are spread after use. Where do they end up? Do they disappear, or are they left in the sea? And, most importantly, can we come up with solutions that remove salmon lice, but prevent the chemicals from spreading in the water masses and lead to negative effects on marine life?
Seven strokes for salmon lice
Salmon lice are one of the biggest challenges for fish health in the Norwegian aquaculture industry and pose a major threat to wild salmon. In short, salmon lice (Lepeophtheirus salmonis) can be described as a natural parasite that eats mucus, skin and blood on both wild salmon and farmed salmon.
In Norway, seven different drugs against salmon lice are mainly used. Some agents are added to feed, while others are added to water. The amount of drugs used varies with the type of drug; Some drugs are effective even at low concentrations, so the total amount is low.
When using salmon lice chemicals, a desired reaction in a cage or in a well boat quickly becomes an undesirable reaction in the surrounding areas. We pay close attention to crustaceans and zooplankton. These play a major role as food for most species of fish and marine mammals. If they have problems, it spreads quickly further up the food chain.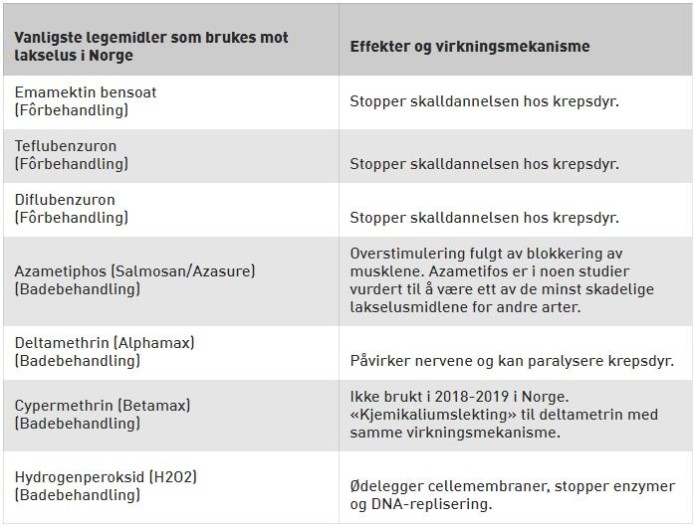 Advanced models provide new knowledge
To understand and predict what happens to salmon lice chemicals in the ocean after use, we use advanced simulations on the computer. We do this instead of spreading salmon lice chemicals around the sea and measuring the impact in real life.
Akvaplan-niva uses a model called FVCOM for this simulation. Much of the model is based on information collected in fields, such as depths, measurements of current and weather data. What makes this a really good model is that it can combine different resolutions.
Resolution in a model is very important. It works in the same way as a digital photograph: with poor resolution, the details disappear. In narrow straits and areas with complicated topography, we need high resolution to understand how salmon lice chemicals spread, but at sea we do not need the same resolution.

What happens when salmon lice killers spread outside the salmon cage?
The information we get from the model is used to assess how likely it is with harmful concentrations of salmon lice repellents at a given distance from the discharge. This knowledge should be used by the administration when assessing where de-lice can be permitted in cages, and where a well boat should discharge the treatment water.
In 2019, Akvaplan-niva carried out a thorough assessment of the environmental risk of the lice remedy hydrogen peroxide using, among other things, this model. The assessment showed that a concentration that can be considered risk-free at sea corresponds to 11,000 times diluted treatment solution. Low concentrations such as this can be found several kilometers from the treatment site. In order to dilute the bathing water as quickly as possible when it is discharged into the sea, it was recommended to use a well boat instead of de-lice directly in the cage.
Tests show that, among other things, shrimp are very sensitive and die if they come in contact with the drug deltamethrin. This applies to concentrations diluted 330 times from the treatment dose. We know very little about how long it takes for this drug to break down in the environment, but we know that it tends to bind to particles in water and sediment.
In a recent NIVA project, we found concentrations about 100 meters from the plant that were much higher than what the laboratory tests showed is lethal to shrimp. The next step is to combine the results from measurements in the sea with models. This is how we will find out how far away from a de-lice we need for it to be safe to be shrimp in the sea.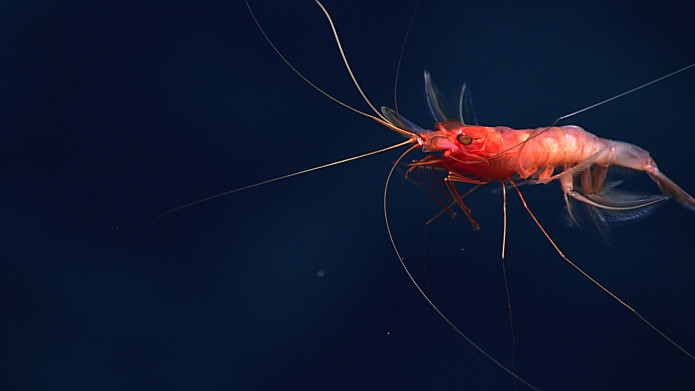 If shrimp, krill and crabs eat fish feed that contains so-called "shell inhibitors", which are used to crack salmon lice, they can also have problems with the next shell change. (Photo: NOAA Office of Ocean Exploration and Research / CC BY 2.0)
Medicines via salmon feed
As we have mentioned, salmon lice can also be given via the feed the fish eats. When lice then eat the salmon, it ingests these substances and dies. The feed stops the process of forming chitin - which is part of the shell of crustaceans. However, in the sea, it is not just salmon lice that form shells. If, for example, shrimp, krill and crabs eat fish feed that contains so-called "shell inhibitors", they can also have problems with the next shell change.
Researchers at NIVA used results from shrimp experiments at the research institute NORCE to model the effects of the feed chemical diflubenzuron, a "shell inhibitor", on a shrimp population in a fjord. The effect depended on the amount of chemicals in the feed and how many shrimp ate from it.
The seasons also seemed to be important. If the shrimp ingested a given amount of diflubenzuron in the spring, it had greater negative effects than if the same thing happened in the autumn.
The management of the sea needs more knowledge
Some of the questions that are most interesting for marine management, fishermen and most people, are how far the substances spread in the sea after a de-lice - and how long they remain in the environment. Without knowledge of this, it is difficult to take care of the marine environment around the salmon cages.
In 2017 and 2019, rules were introduced on emission restrictions in the vicinity of shrimp fields and cod spawning areas thanks to research on the spread and effects of salmon lice chemicals. The amount of drugs used today compared to the situation just a few years ago has been significantly reduced. That's a good thing, but there's a lot we do not know.
We know that the amount of salmon lice must be reduced to safeguard fish health and wild salmon, but this must be done in a way where we keep the food chain's building blocks in the sea: shrimp and zooplankton.
Author: Pernilla Carlsson , NIVA, Gro H. Refseth , AKVAPLAN-NIVA, Ole Anders Nøst , AKVAPLAN-NIVA, Anita Evenset , AKVAPLAN-NIVA (The article has been published on forskning.no).
(Article has been translated from original in Norwegian)
---
Financing and references:
The research we refer to is funded by MIKON / Framsenteret, the Fisheries and Aquaculture Industry's research funding (FHF) and the Research Council of Norway.

Moe, SJ, Hjermann, D.Ø., Ravagnan, E., Bechmann, RK, 2019. Effects of an aquaculture pesticide (diflubenzuron) on non-target shrimp populations: Extrapolation from laboratory experiments to the risk of population decline . Ecological Modeling 413, 108833. doi: 10.1016 / j.ecolmodel.2019.108833

Refseth, GH, Nøst, OA, Evenset, A., Tassara, L., Espenes, H., Drivdal, M., Augustine, S., Samuelsen, O., Agnalt, A.-L., 2019. Risk assessment and risk reducing measures for discharges of hydrogen peroxide (H2O2). Ecotoxicological tests, modeling and SSD curve. Oceanographic modeling. (No. Akvaplan-niva report 8948-1). Akvaplan-niva.

Frantzen, M., Bytingsvik, J., Tassara, L., Reinhardy, H., Refseth, GH, Watts, E & Evenset, A. 2020. Effects of the sea lice bath treatment pharmaceuticals hydrogen peroxide, azamethiphos and deltamethrin on egg -carrying shrimp (Pandalus borealis) . Marine Environmental Research 159 (2020) 105007. doi: 10.1016 / j.marenvres.2020.105007

Regulations on the operation of aquaculture facilities (the Aquaculture Operations Regulations), ( § 15. Use of medicinal products and other chemicals )
---