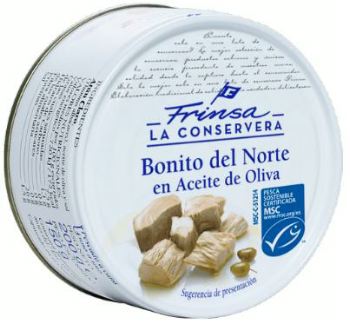 Image: Frinsa
Frinsa, a supplier of tuna to Lidl or Carrefour, had a turnover record

SPAIN
Friday, September 17, 2021, 07:00 (GMT + 9)
The Galician canning company earned 33 million last year, also a new record
Frinsa del Noroeste, the Galician company that is responsible for producing Carrefour, Alcampo, Lidl or El Corte Inglés canned tuna, has achieved record figures in 2020 both in terms of income and profitability, in a year of higher domestic consumption caused by the pandemic.
As shown in the consolidated annual accounts deposited in the Mercantile Registry, Frinsa obtained a turnover of 588 million euros last year, a growth of 12% compared to the previous year's figures, a percentage much higher than the increase experienced in the sector as a whole canning, which the company itself figures at 5%. This also explains that it is the seventh buyer of tuna in the world, with more than 150,000 gross tons processed per year and with sales of more than 540 million cans.
The EBITDA in the past year exceeded 50 million and the net profit reached 33 million, 6.1% more and also the highest profit recorded by the company in its history, which began in 1961. The international market continues to play a role crucial in the growth of the company's turnover. It has subsidiaries in France, Germany, the United Kingdom, Italy, Portugal, Poland and Romania in European territory; in Singapore and also in South Africa. In addition, as it reveals in its non-financial report, it does not rule out expanding into the United States.
During the past year, 38.9% of its turnover was generated in Spain and Portugal, while 58.4% was generated in the rest of the countries of the European Union. In the Iberian market, sales growth was slightly higher than in the EU, with 12% compared to 10% in the second.
The good performance of the company also translates into a generous dividend policy. the accounts show that Frinsa will distribute 22.02 million euros with a charge to the benefits of 2020, the same amount as in the previous year. In the last five years it has distributed more than 100 million. The company is divided between Ramiro Carregal Rey, founder and owner of 64% of the shares; and his son Ramiro Jorge Carregal, with 35.9%.
Source: CincoDias
editorial@seafood.media
www.seafood.media