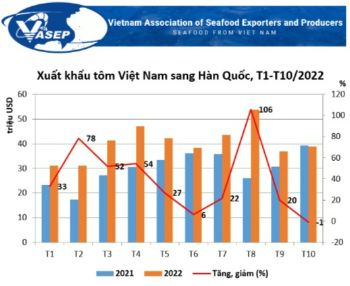 Photo courtesy from VASEP
Vietnamese shrimp still dominate the Korean market

(SOUTH KOREA, 12/15/2022)
Vietnam's shrimp exports to Korea have grown quite well since the beginning of the year with continuous positive growth rates from January to September, the export value in October decreased slightly by 1% in the context of enterprises facing many difficulties. difficulties such as high global inflation, reduced orders, lack of production capital...
Vietnam's shrimp exports to South Korea in 2022 are somewhat more exciting than in 2021 thanks to the advantage of close proximity. Like the Japanese market, South Korea is the preferred export market for enterprises in the context of high freight rates, record inflation and falling demand in the US and EU markets.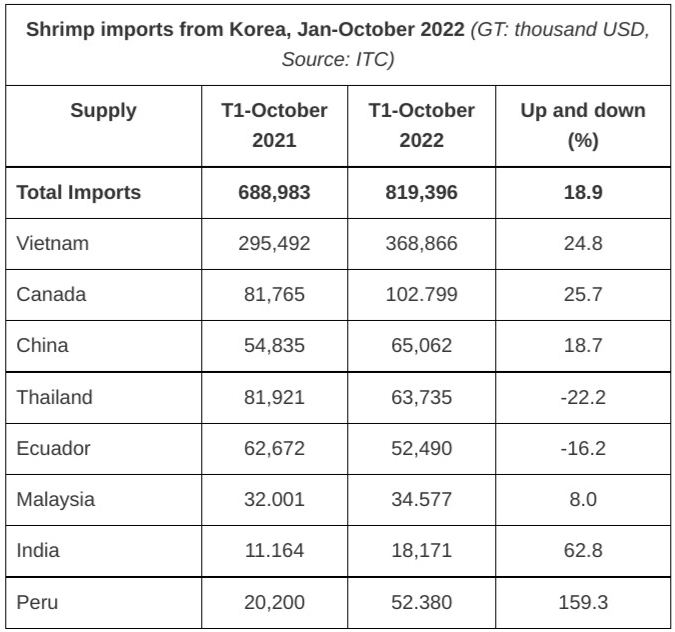 Image: VASEP
Besides, Vietnamese shrimp exported to Korea enjoy preferential treatment under the Vietnam - Korea Free Trade Agreement (VKFTA) with a duty-free quota of 15,000 tons per year.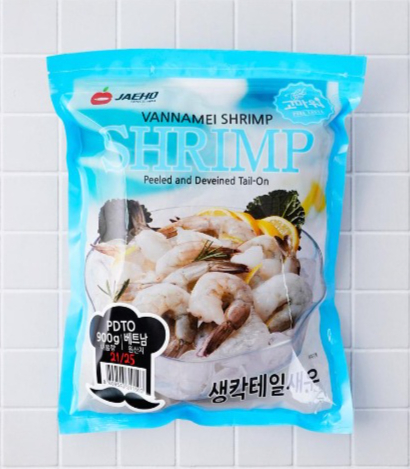 According to the World Trade Center (ITC), in the first 10 months of 2022,
South Korea's shrimp imports reached more than US$819 million, up 19% over the same period in 2021.
In the Korean market, Vietnam accounted for the highest market share. 45% while rival suppliers such as China, Thailand, Ecuador accounted for 7.9% market share respectively; 7.7% and 6.4% of the total shrimp import value of Korea.
As of October this year, Vietnam and China increased shrimp exports to South Korea by 25% and 19% respectively while the two main competitors of Vietnamese shrimp, Thailand and Ecuador, reduced shrimp exports to this market by 22 % and 16% over the same period in 2021.
Shrimp production in Thailand this year is difficult. Moreover, the price of Thai shrimp in the Korean market is less competitive than other competitors. Ecuador only focuses on exporting strongly to China, the US has not invested much in exporting to Korea.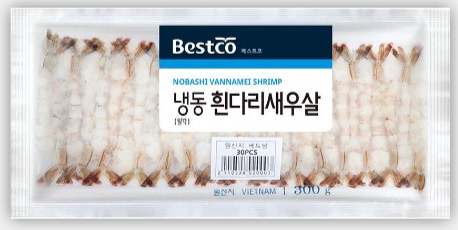 South Korea's economic growth in the coming time is forecasted better due to the easing of geopolitical tensions and the easing of China's zero-covid policy. China is currently Korea's number one trading partner. Trade relations between the two countries are on the rise along with trade agreements such as the Regional Comprehensive Economic Partnership (RCEP) and the Free Trade Agreement (FTA) between the two countries. So this is also a good signal for Vietnam to increase shrimp exports to this market.
Author: Kim Thu, Shrimp market specialist / VASEP
Information of the company:
Address:
218 Road No.6, Zone A, An Phu An Khanh New Urban Area, District 2
City:
Ho Chi Minh
State/ZIP:
( )
Country:
Viet Nam
Phone:
+84 28 6281 0430
Fax:
+84 28 6281 0437
E-Mail:
vasephcmcity@vasep.com.vn
More about: